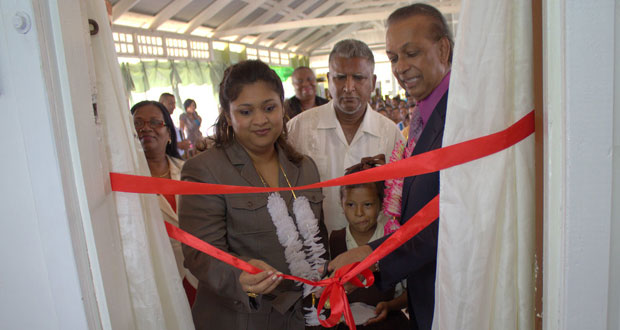 –follows gesture by former student
MINISTER of Education Priya Manickchand last Friday commissioned a new computer laboratory at Bath Primary School in Region Five as part of a collaboration between the Canadian Global Partnership for Literacy and former student, mechanical engineer, entrepreneur and philanthropist, Mr. Trevor Anthony Subryan.At a simple but impressive ceremony attended by parents, pupils and teachers of Bath Primary, the Region Five Chairman and other regional officers, along with officials from the Ministry of Education (MOE), Mr. Subryan graciously handed over the new computer lab to his alma mater.
He spoke of his early days at Bath Primary and how through much hard work, sacrifice and determination he was able to overcome many of life's adversities to become the successful businessman he is today. He charged the students to be disciplined, dedicated and focused on the education they receive, and to be ready at all times to take full advantage of the opportunities that present themselves throughout life.
Minister Manickchand in her discourse with the audience, spoke of the unfailing commitment of the Guyana government to improve the lives of Guyanese children through quality education. Manickchand made reference to the 2014 National Budget in which the MOE has allocated $32.2B to ensure the education sector is properly resourced in order to deliver the best quality education possible, and consequently achieve greater results across the sector.
She also noted that investing in education continues to be a priority area of the Guyana government's national growth strategy, part of which addresses the development of the country's human capital, to enhance employability and in particular tackle youth unemployment.
The Education Minister stated that: "The 2014 Budgetary allocation, provided it is passed through parliament without any cuts, will allow for improved infrastructure, the training of more teachers, provision of substantial financial support for each child, and generally improvement of the quality of education at all levels, from nursery to university."
At present, there are 123 secondary schools currently equipped with computer laboratories, while 85 primary schools have computer laboratories. Another 30 primary schools are slated to acquire computer labs in 2014 and the MOE plans to ensure that all primary schools are furnished with computer labs by 2018.
By Rebecca Ganesh-Ally