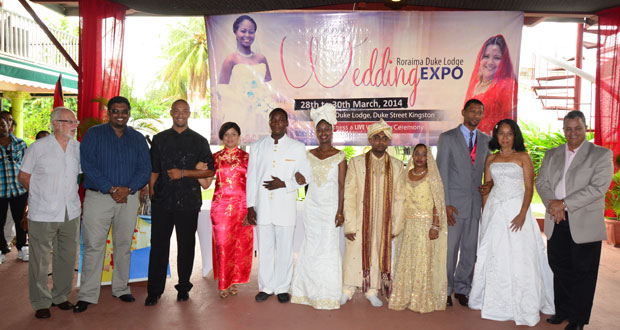 THERE exists "a natural wedding market' in Guyana, but it needs more incentives. This is the view of acting Tourism Minister Irfaan Ali, expressed yesterday as the 6th Annual Wedding Expo was launched at the Roraima Duke Lodge in Duke Street, Kingston, Georgetown.
Earlier this week, Minister Ali had discussions with Cuba's Director of International Relations, Mr. Rosa Adela Mejias Jimenez, about the prospect of joining forces on tourism.
Ali cited Cuba in detailing that, that nation has a thriving wedding industry. Noting that the wedding experience begins even before check-in, Ali pointed out those new developments such as PANAMA-based Copa Airlines'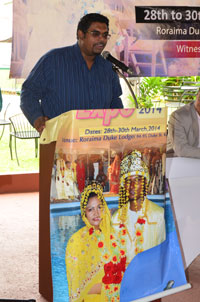 commencing service to Guyana in July,which will help to facilitate a seamless transition for persons in the Region to be married in Guyana, and have the option of going for a honeymoon at any destination in South America.
Citing antiquated wedding laws as one possible deterrent, Minister Ali noted that Guyana has "a natural wedding market", but more incentives need to be in place to make Guyana a premier wedding destination.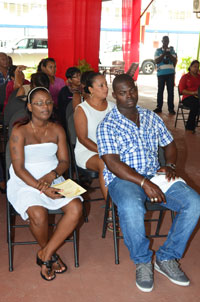 He also posited that a website should be created to furnish with information a person looking to have a wedding in Guyana, without that person having to confront "50 pages" when they type in the search term "weddings in Guyana".
Ali also noted that Guyana has several comparative advantages as a wedding destination, including a wide variety and low cost of food; variations in culture; low cost rentals; and heritage sites and destinations
Captain Gerald "Gerry" Gouveia, CEO of Roraima Holdings, said the annual expo, which showcases an array of wedding products and services, gives small businesses an opportunity to market their goods, and also encourages large companies to benefit their country by being a part of the expo.
Gouveia said the idea of a local expo originated from similar expos that took place in Jamaica, but he noted that while those chiefly featured only Christian weddings and white dresses, this expo takes into account all of Guyana's religions and ethnicities, and features an array of colours.
President of the Tourism and Hospitality Association of Guyana (THAG), Mr. Kit Nascimento, agreed that Guyana should be a premier wedding destination. He opined that Guyana has places that are enormously attractive, and he praised Gouveia for being a person who "thinks up new things".
Last year, a "Race to the Altar" competition was introduced, allowing engaged couples to compete for an all-expenses-paid wedding, which took place during the expo. Most of the excited couples were present at that expo and expressed their appreciation for the competition. Last year's winners, taxi driver Rudolph Davis and his wife Oshani, were present and were in for some good-natured teasing, as Oshani is now pregnant.
The advent of Roraima Airways Wedding Expo in 2009 marked an initiative by the Roraima Holdings management to introduce a new product to the Guyanese market, and to begin to create a public profile for wedding tourism, an offering for which other countries in the Region have already made their name internationally.
The brochure for the fifth annual expo in 2013 stated that the Roraima wedding expo sought to provide a glimpse of the benefits that could be derived for both the tourism sector and the Guyana economy as a whole, through embracing wedding tourism as a sub-sector of a wider, emerging tourism sector, to excite the fancy of couples contemplating nuptials, and to create a marketplace where sellers and buyers of goods and services associated with weddings would meet.
Simultaneously, the launch of Wedding Expo coincided with Roraima's acquisition of Duke Lodge, an historic state hall which the company transformed into a hotel, restaurant and reception hall.
Wedding Expo was a success from its inception, as the spacious, well-appointed premises of the Roraima Duke Lodge, including its attractive swimming poolside, was an ideal place for product display to the hundreds of persons who represented a captive market.
The expo will be hosted on the premises of the Duke Lodge from March 28 to 30, with the live wedding taking place on March 29th.
(By Michelle Gonsalves)