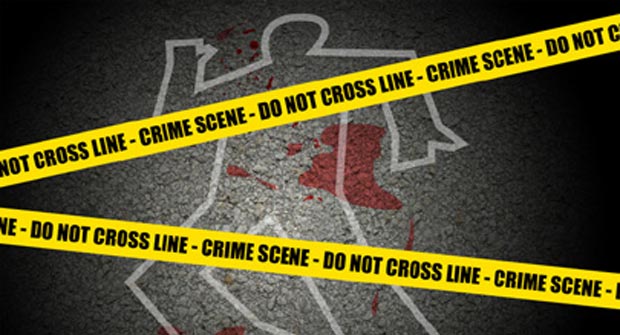 — investigators
SLEUTHS investigating the double-slaying which occurred at the Co-op Backdam 15 miles into the Port Mourant backlands on the Corentyne Coast on Thursday are working on the theory that the incident may have been a retaliatory act.
One of the victims, Krisnauth Jagdeo, was among five persons who had faced the capital charge in the High Court in relation to the vigilante-style killing of 45-year-old Alfred Munroe, alias Iguana Man, who had been dealt multiple injuries by a group of persons at Rose Hall Town on the Corentyne Coast in May 2013.
Because of technicalities in relation to the jurisdictional hearing, Jagdeo was recently acquitted in relation to Munroe's death.
Jagdeo , alias Chris, aged 46 years, of Free Yard, Port Mourant; and Seafiel Layne, 48, a labourer of No 1 Road Corentyne, Berbice, were shot in the neck and temple respectively when the boat in which they were travelling came under ambush by a group of men, one of whom was on horseback.
Their workmates — labourers David Harpaul, 38, of Rose Hall Town, and Clement Griffith, 48, along with Fazel Abrahim, 25, a mechanic of Port Mourant and Black Bush Polder respectively, are currently in critical condition at the Georgetown and New Amsterdam Hospitals respectively.
Sources close to the investigation have revealed that while the incident was a planned event, the victims were caught unawares and had sustained extensive injuries.
Theatre staff at the New Amsterdam Hospital worked tirelessly until the wee hours of Friday morning in an attempt to restore the health and well-being of Harpaul, a father of four. Relatives and curious onlookers flocked the male surgical ward at the GPHC in an effort to get a glimpse of the men whose lives were rendered 'on the line'. Some prayed quietly for a fast recovery.
The Port Mourant Follow-Up is a cooperative society managed by three popular businessmen: Kris Jagdeo of Jagdeo Construction; Kase 'Manoj' Singh of Spready's Bakery; and Pharmacist Bhigroog Poonai. The men are involved in extensive rice cultivation in the backlands, which are accessible by boat.
Reports are that the deceased men were in the employment of Kris Jagdeo, while the three injured were employed with Singh. They had finished working and were on their way home in a wooden motor vessel when they were ambushed by two men and blasted repeatedly with shotguns.
David Harpaul, the boat captain, was reportedly shot in the right side of his abdomen. He, thereafter, telephoned Bhigroog Poonai and informed him of the situation, before motoring for over two miles to board the vehicle which he had parked earlier that day. He continued for a similar distance, before losing consciousness.
In the meantime, the businessmen accompanied the ambulance to the scene, allowing the injured to be transported to the Port Mourant Hospital prior to being transferred to the New Amsterdam Hospital. Harpaul was subsequently transferred to the Georgetown Public Hospital.
Police also rushed to the scene of the shooting and found the two deceased men, who had been hauled from the water.
Investigations are continuing