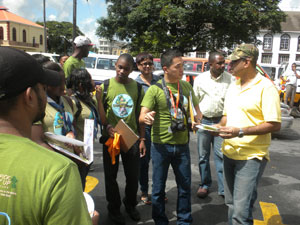 THROUGH a collaborative effort with the Japanese International Cooperation Agency (JICA) and the United Nations Volunteers Programme (UNVP), 'Pick it up Guyana' (PIUG) yesterday held a 'Keep Guyana Clean' campaign in promoting a litter-free, cleaner and healthier environment.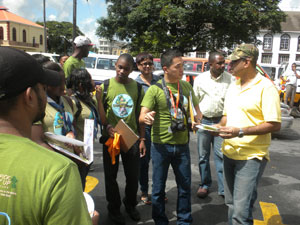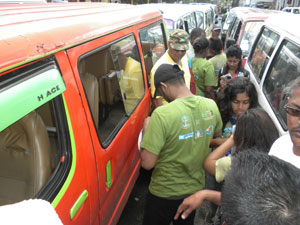 Minister of Environment, Mr Roberts Persaud (right), who spearheaded yesterday's campaign, has a last-minute word with volunteers before moving into action (Photos by Cullen Bess-Nelson)
Minister of Natural Resources and the Environment, Mr. Robert Persaud, along with more than 30 volunteers from PIUG, the Civil Defence Commission Volunteer Corps (CDC VC) and Scouts from the St. Stanislaus College Scout Group turned out in large numbers to support this one-day activity.
In a brief interview with this publication, PIUG's Seon Mendonca  said the main objective of the campaign, held at the Kitty-Campbellville Route 40 Bus Park in the vicinity of the Stabroek Market, was to engage a coordinated effort to deliver positive environmental messages and encourage drivers and conductors to play an important role in advocating for 'no littering' as they provide their services.
Mendonca said that during this advocacy, a survey will be carried out, and depending on responses and feedbacks from the drivers and conductors, the PIUG would proceed in making visits to bus parks all over Guyana, to encourage citizens to take action for a clean and healthy environment.
Buses were branded with the "Keep Guyana Clean" stickers, which will serve to support the campaign's efforts beyond the bus park campaign. It is expected that stickers would remind passengers and members of the public to refrain from disposing waste in public spaces, and to practice good waste disposal habits.