MINISTER of Agriculture, Dr. Leslie Ramsammy was discharged from the Georgetown Pubic Hospital (GPH) late Tuesday evening.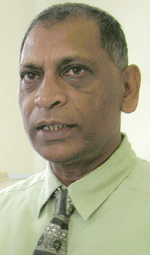 He had been admitted there after collapsing at his Regent and Vlissengen Roads, Georgetown office earlier in the day.
This was confirmed by Health Minister, Dr. Bheri Ramsaran who said Ramsammy was released in a satisfactory condition after undergoing tests to rectify his situation.
Ramsaran further advised that his colleague minister was ordered to rest by cardiologist, Dr. Leonard Carpen, who will be monitoring him frequently.
Ramsammy is expected to undergo further testing in the near future.
The former Health Minister was rushed to the Caribbean Heart Institute at the GPH after the reported collapse in his office on Tuesday but his condition was not considered to be life-threatening, according to an official who spoke to the doctors attending him.
Ramsammy had a previously existing heart condition and, several years ago, suffered an almost fatal attack and underwent  triple bypass surgery overseas.
He has been assigned the agriculture portfolio since the People's Progressive Party/Civic (PPP/C) was re-elected in 2011. Prior to that, he had been Minister of Health for a number of years.