GUYANA has received high commendation from the Organisation of American States (OAS) for its remarkable efforts in fighting for the rights of its people.
OAS Secretary-General Luis Almagro paid the compliment on Thursday, during an engagement with Guyana's Civil Society at the Marriott Hotel in Kingston.
The Secretary-General said Guyana has always been making headway for its people, which often aids in the further unification of the country.
"Guyana has proven itself to be a great defender of democracy. Equally as important, Guyana continues to be a defender of human rights, especially Indigenous People's rights, and Afro-descendant's rights, recognising to build a nation of unity, all people must be given equitable access to opportunities," Almagro underscored.
He said that Guyana has been one of the countries to instill crucial principles to always protect its people.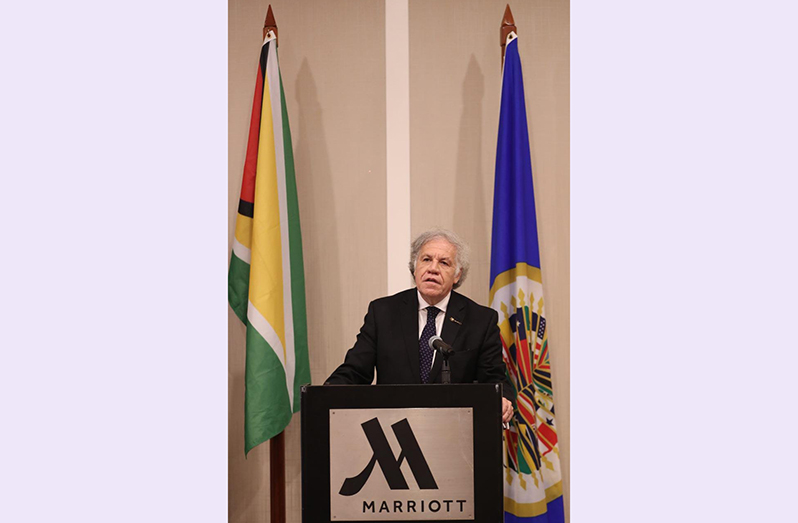 "It's government has continued to reaffirm the principles set out on the US Charter, which emphasises the protection and fundamental rights of an individual, without distinction, to race, nationality, creed or sex," the Secretary General said.
Acknowledging that the government has been going above and beyond for its people, Minister of Parliamentary Affairs and Governance Gail Teixeira said the achievement would not have been possible without the OAS' support.
"We are deeply appreciative of the Organisation of American States, the electoral observer mission heads, former Jamaica Prime Minister Bruce Golding, and for the very forthright principled position of the OAS permanent councillor and yourself in defending and protecting, the democracy of Guyana," Minister Teixeira emphasised.
The government has committed to electoral and legislative reforms, contributing to the drive for democracy.
As such, efforts to promote transparency and accountability include the passage of the Representation of the People Act (ROPA) and the tabling of the National Registration (Amendment) Act.
Additionally, the establishment of the Constitutional Reform Commission is representative of the government's pledge to the maintenance of local democracy.