Imlach's ton, Chanderpaul's 89 put Guyana in control
– Lugg & Blackwood keep Jamaica afloat
By Sean Devers
Guyana Harpy Eagles are scenting victory but Jamaica Scorpions, needing an improbable 458 to win, are fighting bravely and are 174-1 on the back of a century stand between Jermaine Blackwood and Tevin Gilzene.
This was after the third day of their fourth round West Indies four-day Championships yesterday at the Guyana National Stadium.
Gilzene is unbeaten on 81 from 131 balls with 13 fours while Blackwood is on 66 from 124 balls with 12 fours. The pair have put together 164 for second wicket so far.
Jamaica need 282 more to win from 90 overs while Guyana need nine wickets.
Guyana resumed on 138-4 with Tagenarine Chanderpaul on 60 and Tevin Imlach on 50 and the pair remained together until just before Lunch when Chanderpaul, who made 89 from 249 balls, from 298 minutes with 12 fours, was lbw to Jermaine Blackwood after he had added 175 for the fifth wicket with Tevin Imlach who finished unbeaten on 136; he faced 217 balls, batted for 334 minutes and reached the ropes 14 times.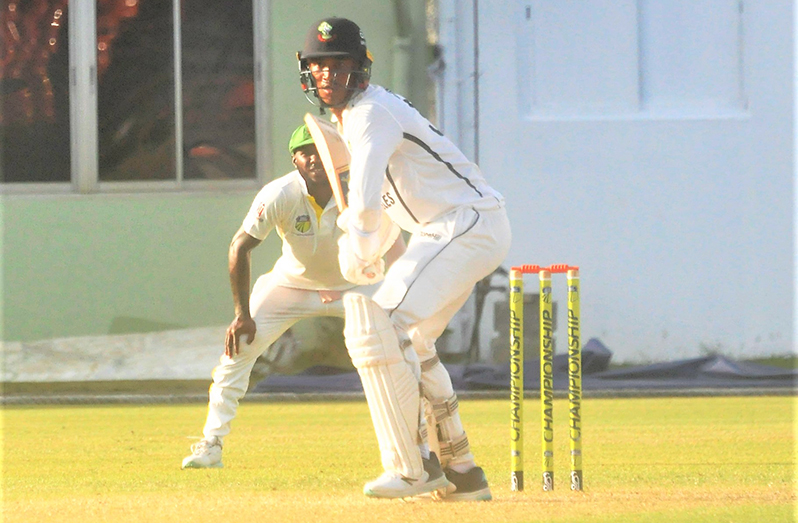 Marquino Mindley had 6-54 to end with match figures of 9-88.
Jamaica started positively with Leroy hitting Ronsford Beaton for a six and a four in his first over before the fired up Beaton had Lugg (10) caught behind by Imlach at 10-1.
Gilzene and Blackwood fought fire with fire and counter-attacked the pacers and as the visitors were 28-1 after the break the pair continued their pugnacious approach; reaching the boundary nine times between them as the raced to 50 in eight overs.
When left-arm spinner Permaul was introduced in the ninth over, Gilzene executed a delightful on-drive that speed across the lightning fast outfield for four.
However, Permaul, bowling in tandem with fellow left-arm spinner Gudakesh Motie, put the brake on the frenetic scoring.
But not for long…Kevin Sinclair bowled a bad line and twice the ball beat Imlach for a couple of four-byes before Blackwood launched into Permaul and hit him over wide mid-on for four before sweeping him to the ropes next ball to post the 100 partnership.
Gilzene reached his 50 from 88 balls with eight fours before Blackwood was dropped at first slip by Johnson on 42 off Beaton at 124-1
Gilzene looked uncomfortable against Beaton's short balls but guided him to third man for four while Blackwood played a gorgeous off drive off of Sinclair for his ninth four to post his 50 from 95 balls.
The pair continued to bat freely and were still together at the end of the day.
Earlier, Imlach scored freely and a majestic straight drive past the ankles of Mindley reached the boundary in a flash, then swivelled and brutally pulled a long hop from Mansingh for four while Chanderpaul got himself into a rut and at the first water break the Test left-hander had just nine runs in 60 minutes.
Chanderpaul increased the tempo, dancing into the leg-spin of Mansingh and hitting him over his head for a couple of boundaries before the partnership was broken when Chanderpaul was dismissed at 205-5.
Imlach pulled Mansingh for four before cutting Blackwood to the point boundary to move to 98 before reaching his maiden century from 258 minutes from 169 balls in the last over before lunch and Guyana were 220-5 with lead of 383 at the interval.
Sinclair (18) and Permaul (2) were removed by Mindley in space of two runs as Guyana slipped to 247-7 before Motie threw his bat around in his unbeaten 18 while Imlach continued with some classy shots to the delight of the DCC supporters among the small gathering on another hot day. With the lead just past 450 runs Johnson called his batters in.
Today is the final day and is scheduled to start at 10:00hrs.
Scoreboard
Guyana 2nd inns 0/N 138-4
Tagenarine Chanderpaul lbw b Beaton 89
Tevin Imlach not out 136
Gudakesh Motie not out 18
Extras 6 (b-2, lb-2, w-1, nb-1)
Total 294-7 dec
FoW: 0, 27, 31, 33, 245, 247
Mindley 16-1-4-6, Gordon 15-4-45-0
Green 21-2-54-0, Shields 10.4-1-36-0,
Mansingh 10-1-41-1, Blackwood 10-1-41-1
Palmer 1-0-9-0
Jam 2nd inns
Leroy Lugg c wkp Imlach b Beaton 10
Tevin Gilzene not out 98
Jermaine Blackwood not out 66
Extras 19 (b-10, lb-4, nb-5)
Total 174-1
Fow 10,
Beaton 11-1-67-1, Smith 5-1-30-0
Permaul 10-4-23-0, Sinclair 7-2-15-0,
Motie 10-4-27-0