–Minister Rodrigues tells Soesdyke/Linden Highway residents
SCORES of residents from Kuru Kururu village, on the Soesdyke/Linden Highway, and other surrounding communities participated in the first-ever public consultation on Tuesday, as plans are progressing for developing the new Silica City.
The meeting, which was held at the Kuru Kururu Youth Choice Centre, was facilitated by Minister within the Ministry of Housing and Water, Susan Rodrigues; Minister within the Office of the Prime Minister, Kwame McCoy; Permanent Secretary of the Ministry of Housing and Water, Andre Ally; and Chief Executive Officer of the Central Housing and Planning Authority, Sherwyn Greaves.
Also in attendance were Lamaha/Yarrowkabra NDC Chairman, Floyd Smith and representatives from several sister agencies, including the Guyana Lands and Surveys Commission and the Guyana Water Inc.
The consultation was geared at bringing residents up to date on the new smart city's plans, which will transform some 3000 acres of land upon completion. It will be a self-sustainable city with commercial and industrial zones, housing, medical and educational facilities and recreational and open spaces.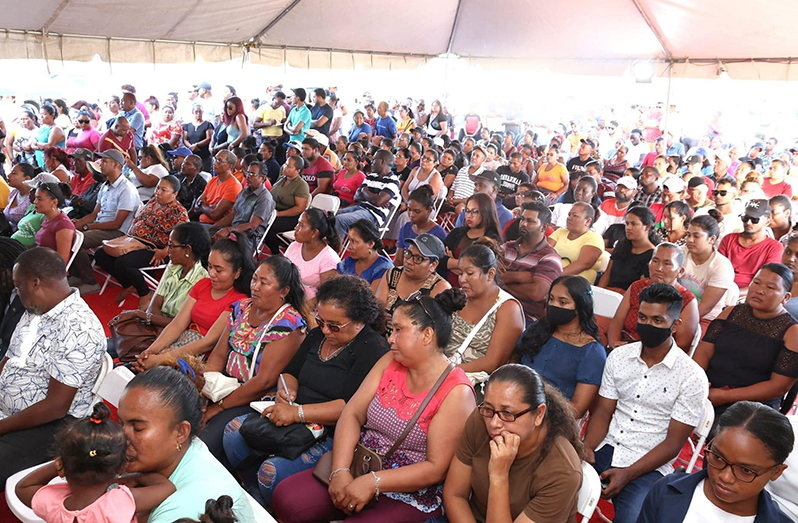 "Silica City will be a vibrant, sustainable, resilient and modern city based on the principles of sustainable urban land use and management. But more importantly, Silica City will be a marvel," said Minister Rodrigues.
CEO Sherwyn Greaves added that close to $2 billion will be expended during the first phase for infrastructural works such as constructing access roads, bridges, and reinforced concrete drains and culverts.
After presentations from the Ministers and Mr. Greaves, residents were allowed to raise questions, make suggestions, and have their say in the development plans.
The establishment of Silica City was proposed in 2013 by His Excellency Dr. Mohamed Irfaan Ali during his tenure as Minister of Housing and Water. It is in keeping with the Sustainable Development Goals, the New Urban Agenda, the Housing Act 36:20 and other guidelines.