-several 'small' contractors awarded bridge contracts after completing procurement training
DESPITE the racist and divisive comments recently uttered by member of the Working People's Alliance (WPA), Tacuma Ogunseye, the government remains committed to upskilling all Guyanese so that they can positively contribute to their households, communities and the country.
A group of small contractors from the East Coast Demerara community of Buxton are among the most recent beneficiaries of the government's empowerment plans. After attending a workshop, they are now in a better position to bid for contracts.
During interviews with the Guyana Chronicle, Gladwyn Hamilton and Gordon Willis thanked President, Dr Irfaan Ali and his government for including the people of Buxton in their plans.
Hamilton recalled that residents were invited to a community meeting by the Minister of Public Works, Juan Edghill, and his team.
When he arrived at the venue, he said he realised that the meeting was held to give the young contractors who did not meet the requirements to bid for contracts, an opportunity to be part of a workshop that was being organised by the government.
According to Hamilton, the workshop included representatives of the Guyana Revenue Authority (GRA), the National Insurance Scheme (NIS), and the National Tender Board, who explained the procedures and requirements that are needed in order to get themselves properly equipped to benefit from their skills.
"After the workshop, people were more knowledgeable, and we felt more comfortable knowing that they could go out and get the job done. Minister Edghill promised to come back to the community and identify the bridges that had to be fixed. We got a call, we showed up, and everyone was treated fairly and had the opportunity to push their hands in a bag and pull a number, and we were given a bridge," he said.
Hamilton expressed his gratitude for the opportunity to be part of the country's construction boom.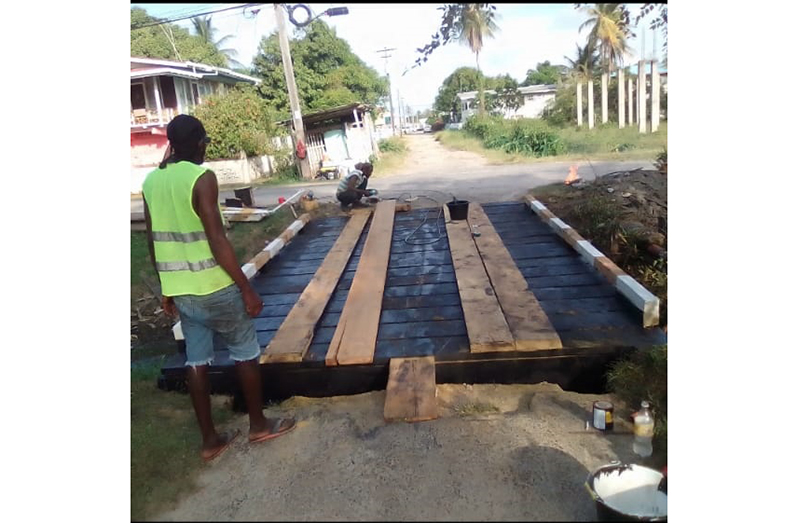 "I am very pleased with the contract that I received, and I know that my fellow contractors are as well. We know that the construction business is booming in Guyana, and with a government that is helping the different races and communities, you cannot go wrong with that. We see that the priorities of the government are to make sure that everyone benefits, and it is trickling down to the small man and their families as well as me and my family," he added.
Hamilton further related that he had lived overseas for some years and returned to Guyana, but he was struggling to get work and contracts.
According to him, he was "stressed out and frustrated" and wanted to leave the country.
He told this publication that after the Ali-led administration took office, he received about four contracts.
"I can now afford to employ over two dozen workers as well as give my kids a good education. I am also proud that I am employing people of different races, both in and outside of Buxton. With President Ali, it is not lip service. What makes me feel good about this government is that the people are seeing what they are doing, not just hearing it. The president is not just talking the talk; he is walking the walk, and as long as Mr Ali and his government continue with this and what they are doing for Guyana and the people, he has another 50 years in office. If we can vote for him to be there for that long, we will. He is doing what he says he will, and we are thankful," the young contractor emphasised.
CREATING JOBS
Meanwhile, Willis related that through the government he is able to create jobs and take care of his family.
"I born and grew up in Buxton, and this village has never experienced this type of transformation ever. I get the opportunity to create jobs for the guys in Buxton, and they get the opportunity to provide for their families. My wife, who is a trained teacher, wanted to further her studies at the University of Guyana (UG), but I couldn't do it for her before, but now she is going to UG because I can afford it because of President Ali and his government," he said.
Both contractors said that they, along with the other contractors, are looking to help the young men in the village get themselves qualified so that they too can provide for themselves.
They said that a letter will soon be sent to the relevant government officials so that those residents can get the help that was extended to them.
The duo expressed confidence that those persons will receive the requested assistance.