–Minister Hamilton hammers opposition; says forward thrust of government's programmes, policies undeniable
–Minister McCoy debunks 'untruths' surrounding inflation with evidence from the 'shop'
MINISTER of Labour, Joseph Hamilton, on Monday dared the political opposition to put forth a budget that could equivalently compare to the one presented by the government.
Minister Hamilton, the first speaker for the government on the opening day of the budget debate, said while the parliamentary opposition has much to say to disparage the budget, they will once again come with nothing to replace what the government proposes.
"They are incapable of presenting any programme and policies to the Guyanese people towards their development and well-being.
"They will denigrate, they will chastise and even demonize the budget, but they will put nothing comparable to what we have already put forward. They are politically and intellectually incapable of doing that. They have no capacity to put a vision before the Guyanese people. Nothing productive, nothing constructive, nothing developmental they will bring," he said.
Hamilton, amidst loud heckling from the opposite side of the house, said the opposition must be lost if it cannot understand how the vast infrastructural projects taking place across Guyana is benefitting the people in every way.
"If you do not understand what the positive impact will be on citizens by building a bridge across the Demerara River, then you are lost. If you are incapable of understanding what the positive impact will be of allowing tens of thousands of Guyanese to own their own homes, then you are lost.
"If you are incapable of understanding what the impact is of making available thousands of scholarships to young people so that they can elevate themselves, then you are lost," Minister Hamilton said.
Energized by the positive applause from his government colleagues, he added: "[They say] poverty alleviation is absent from the budget, this seems to be a budget for the rich. [But let me ask] building tens of thousands of houses and giving out house lot to tens of thousands of people that is for the rich? Making scholarships available… that's for the rich?"
Addressing a few "fragmentary" measures proposed by the opposition, including calls by the Alliance For Change (AFC) for a monthly electricity and water subsidy, Hamilton said parliamentarians on the opposite side of the House were being "hypocritical."
He said this is the case because the former APNU+AFC government had removed the subsidies for electricity and water. This has since been restored by the government.
Minister Hamilton also reminded the Opposition that other measures proposed by AFC Leader Khemraj Ramjattan such as duty-free concessions and Value Added Tax (VAT) exemptions on equipment and machinery for businesses, are in fact existing relief measures implemented under the People's Progressive Party/Civic (PP/PC) government.
"The AFC is proposing a measure already executed since 2020. Ramjattan's party is asking for something that was already done two and a half years ago," Hamilton said.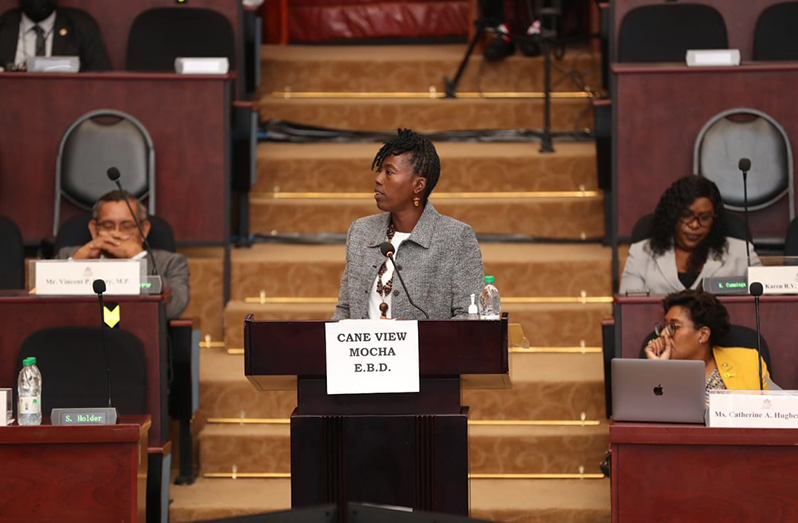 Pointing to the five-year period during which the APNU+AFC was in government from 2015 – 2020, Hamilton accused the Opposition of having "failed miserably" at executing and completing programmes that they took over from the PPP/C government, even though money was available for those projects.
Hamilton then called out Opposition Leader Aubrey Norton for his comments on the need for manufacturing, when it was the Opposition that shot down the Amaila Falls Hydropower project, which would have contributed to lowering electricity cost and vastly benefit the manufacturing sector.
Hamilton also called out the Opposition for failing, during its five years in office to use any of the money from the REDD+ fund to improve and invest in projects supporting alternative energy
Minister Hamilton was preceded on the floor by Opposition member Nima Flue-Bess, who set the stage for the Opposition's debate by bewilderingly commencing with a rendition of "The Song of Guyana's Children."
Her choice of opening was never quite explained, though it had little relatedness to her speech, in which she described the budget as "uninspiring, hopeless, misleading, and troubling."
Even as she questioned how the government was giving back directly to the people, Flue-Bess nonetheless listed a string of direct cash measures implemented by the government to place money into the pockets of Guyanese.
Those included the increases to old-age pension, $150,000 given to each fisherfolk in 2022, as well as salary increases and tax-free bonuses given to the joint services, and the part-time job initiative that saw persons being paid $40,000 per month.
Refusing to acknowledge the benefits those measures have had, Flue-Bess instead made note of how the inflation rate has been affecting the economy.
LAYING OUT THE FACTS
However, she found her attempt at quoting inflated commodity prices demolished by Minister within the Office of the Prime Minister with responsibility for Public Affairs, Kwame McCoy, who took the floor armed with household commodities, sourced from Flue-Bess' native community of Mocha, with displayed prices lower than what was quoted by Flue-Bess.
While Flue-Bess claimed that sugar had been raised from $300 to $500, Minister McCoy produced a pound of sugar that was bought in Mocha for $160 per pound, and $800 for five pounds, while Flue-Bess' claim that a small bottle of oil had gone from $360 to $800 was challenged by a bottle of oil bought for $400 by the minister.
"We cannot come here and tell stories that don't represent the reality; we can't come here and pretend that something is what it is not," Minister McCoy asserted.
The vociferous minister added: "It is not about how much you can dramatize. It's not about how much theatrics you possess that would make a difference in terms of the debate, it is about people being able to understand the reality in any given situation that you wish to present to them and a lot of what has been said here today [by the Opposition] is really far away from the reality."
Minister McCoy accused the opposition of deliberately inflating, and sensationalizing the inflation situation occurring globally to mislead Guyanese and the wider world on the situation in Guyana.
"Anyone not knowing what happens here in Guyana would go away with the impression that the cost of living issue is so damning, and a most horrible situation exists in Guyana and only Guyana. This is a worldwide phenomenon. We as a government have owned this issue, we have been speaking about it," Minister McCoy noted.
He added: "We have addressed these issues and that is why you have seen us all over this country over and over. It is because we want to be in touch with people. We want to feel what people are feeling; we want to know what they're feeling."