By Frederick Halley
AVINASH Sookdeo ended the Ontario Softball Cricket League (OSCL) 2022 season in a blaze of glory at the Ashtonbee Reservoir ground, Scarborough, Ontario, Canada last Saturday, smashing a masterful century as Mercenary defeated Carr Tec by a massive 138 runs in the T20 Playoff final.
It was billed as a potential blockbuster affair but in the end, it turned out to be a lop-sided game. Winning the toss and opting to take first strike, Mercenary reached a commanding 224 for six in their allotted overs before Carr Tec were left stranded on a disappointing 86 for nine when their overs expired.
The day belonged exclusively to Sookdeo, whose pulsating 109 off 54 balls, which was decorated with two fours and 13 massive sixes, almost singlehandedly took the game away from Carr Tec with a batting display that most of those present rated as one of the best in the 26-year history of the OSCL.
The pugnacious right-hander dominated three important partnerships with fellow opener Avish Rukhram, Richard Dias and Shaun Deonandan who were merely bystanders. After a somewhat sedate start, Sookdeo added 75 in eight overs for the first wicket with the left-handed Rukhram whose contribution was 30 (one four and three sixes). He then shared a second-wicket stand of 67 with Dias (10) and 58 with Deonandan (19) for the third wicket.
By the time Sookdeo departed, bowled by Eion Katchay with the score on 200 in the 18th over, Carr Tec looked a demoralized bunch. Katchay finished with two for 28 from two overs while there was one wicket each for Yoodhanlall Suhkhlall, Troy Gobin and Andy Persaud for 26, 33 and 37 runs respectively.
Carr Tec, in reply, raced to 29 in 2.1 overs with Katchay lashing a quick 20 with three fours and a six off a mere nine balls, but once he went caught by Dias off Rabindra Diaram, it was all downhill as wickets fell with frequent regularity, so much so that no other batsman reached double figures. Extras tallied 30 with 23 being wides.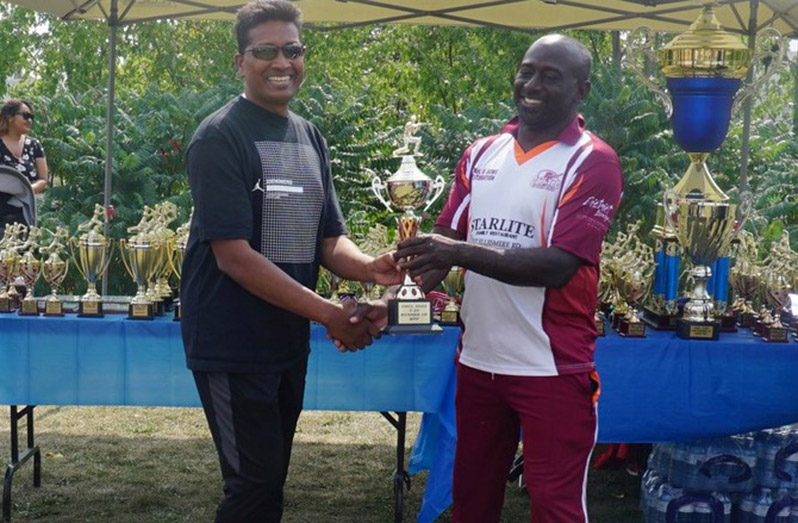 Amit Rukhram, who bore the brunt of Katchay's free-scoring in the first over, returned later in his next three to finish with the impressive figures of three for 20 while Diaram took two for 16, Satrohan Balkarran two for 19 and Sookdeo and Damador Daesrath one for five apiece.
Sookdeo was deservedly named the Most Valuable Player for the winning team while Katchay took the award for the runner-up.
The victory meant Mercenary had made a clean sweep of all the titles up for grabs in the OSCL 2022 season. They topped the T20 standings with 70 points, the same as Berbice Vipers but with a superior net run rate. They also carted off the T10 and T-15 championships.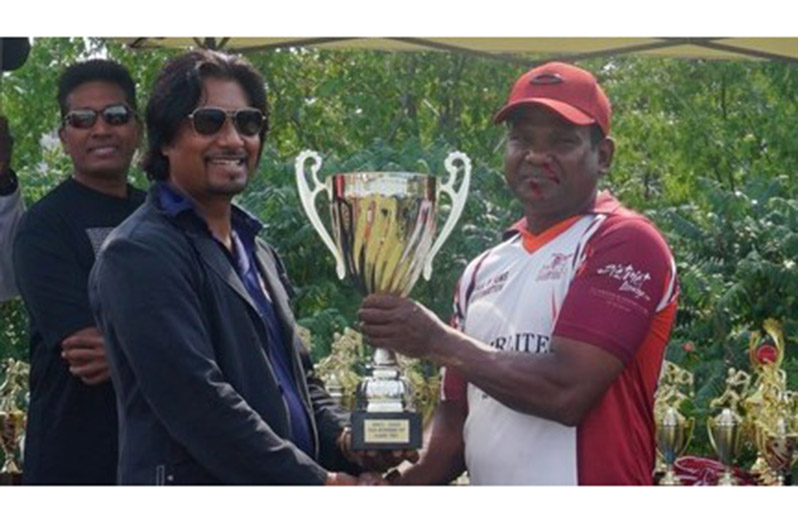 At the impressive presentation ceremony, which followed, several players were awarded for their outstanding performances during the season. Mercenary's Avish Rukhram topped the T20 batting aggregate with 559 runs with Enmore's Steven Ramdass and Shiv Persaud occupying the second and third spots respectively with 364 and 350.
Centuries were also registered by Rukhram (154 and 196 not out), Ramdass (112), Chien Gittens (101), Anand Balwant (163) Dias (120), Surendra Persaud (120), Devon Ramnauth (126), Oliver Manram (121) and Sanjay Kumar (101).
Jairam Rakesh Ramoutar of Better Hope topped the bowling with 19 wickets while Diaram and Shameer Latiff (Better Hope) took 19 each. Bholanuth Sukhu (Mercenary) and Katachy finished with 15 each.
Four players – Ramoutar, Katchay, Andy Persaud and Rabindra Jesh Parasnauth (Canadian Legends) — recorded five-wicket hauls.
Saturday's winner's trophy was donated by former president and founding member, Kenny Girdharry, who told the gathering that it was done in honour of his late father, an ardent cricket fan, who passed away last year.
Apart from the winner's and runner-up trophies, players on the winning team were recipient of token trophies while those on the runner-up side collected medals.
The OSCL also took the opportunity to reward the youth and female players who participated in tournaments during the season while appreciation plaques were presented to Girdharry, Kim Sue of Norman Sue Bakery, Trophy Stall and Starlite Restaurant "in recognition and appreciation for supporting and sponsoring our organisation."