JOYCELYN De Silva has been a businesswoman for the past 20 years at Santa Rosa, Moruca, where she was born and raised. Having developed a reputation for having the best barbecue in the Region One village, the mother of seven can never forget how she got started.
She began with a small business selling snacks like plantain chips, nuts, buns, salara, tennis rolls, etc., before deciding to get more fully into the food business. She then started to do roti and curry and realised that food was something that could make her money.
"That's when I started to cook local food, a small amount each day," she told Pepperpot Magazine. Then in 1989, a team from the US went into Moruca to do an extension and other work on the hospital, and at the end of their day's work, they'd visit Joycelyn's little shop to buy food.
"These American people came to look after the hospital, extend it and do other work on it and we had the army team that came here with them. They used to visit my shop every day, and they teach me how to do barbecue. I looked on real good, and I started doing it myself. From that day to now, barbecue built every single thing I have – my house, my shop, everything," she shared.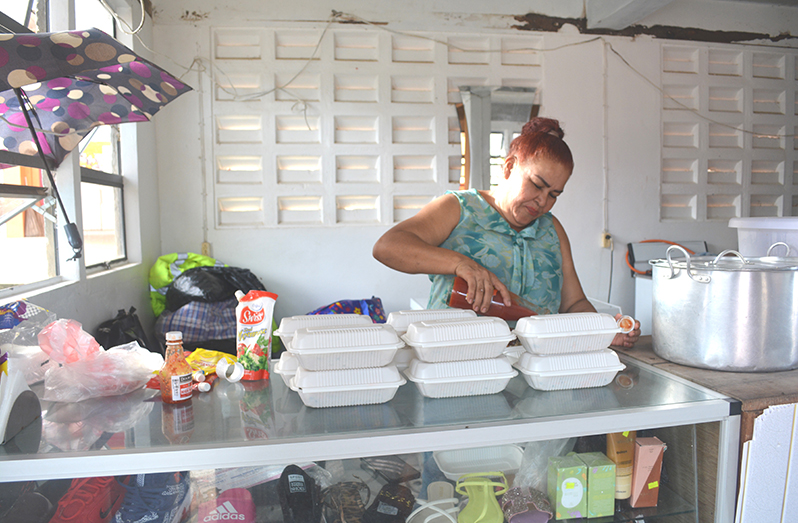 The cook for the team was an army officer who taught Joycelyn how to do the barbecue. While she doesn't know his name and never met him again after this time, how she wishes she has the opportunity to one day meet him again and say thank you!
"Starlight Mission was the group that came to repair the Kumaka District Hospital, and the GDF officer was the cook for the team. I wish I can meet him again. I want to meet the person who taught me to do the barbecue. I just can't remember his name."
She started to do the barbecue only on fun days and special occasions and then did some every weekend. Today, though, she does her barbecue every day for customers who would patiently wait for her to open the shop.
"I'm at the central point here. This is the frontline, and that is how I get to reach people who come from all over, including the riverine areas. The brightest day here is on Saturday when it's market day," she shared.
CONSIDERATE OF CUSTOMERS
Joycelyn loves to cook; name it and she can cook it. Interestingly, apart from the barbecue, no one taught her. She practised on her own and developed the skills that were needed. She cannot overlook, though, the impact her mom Anthonia De Silva (now deceased), had on her life.
"My mom taught me as a child growing up. She would say soon y'all will be young ladies; y'all have to learn how to cook and she will show us how to make curry, stew, roti; how to bake," Joycelyn recalled.
While her mom would do all the baking, it was Joycelyn and her siblings' task to help do the selling. "I liked that part of it. We would go all over to all the relatives, to every house, and sell. I dealt with the money, so since I was little, I liked doing business. She would send me to purchase the ingredients at the shop so I would know what she's using and how much she's making and so on."
Asked to share one of the secrets to a good barbecue, Joycelyn said putting on the sauce and then placing it back into the fire makes it taste bitter and rubbery.
Even with the price for everything increasing, Joycelyn said she chooses not to raise her price as she knows that doing so will not work out for the best for her customers. "My customers are very poor people. When they come, and I see that they just saved that money to buy the food, I can't ask them for more. I keep my standards maintained so when they buy it, they are able to share with their little ones, and that keeps them coming."