THIS week the Pepperpot Magazine visited the quiet, breezy countryside village of Number 10, Mahaica Creek, East Coast Demerara to highlight the way of life of the locals.
This village can be found down the De Hoop, Mahaica Access Road, which runs deep into the backlands area, with the last village being Grass Hook and Joe Hook.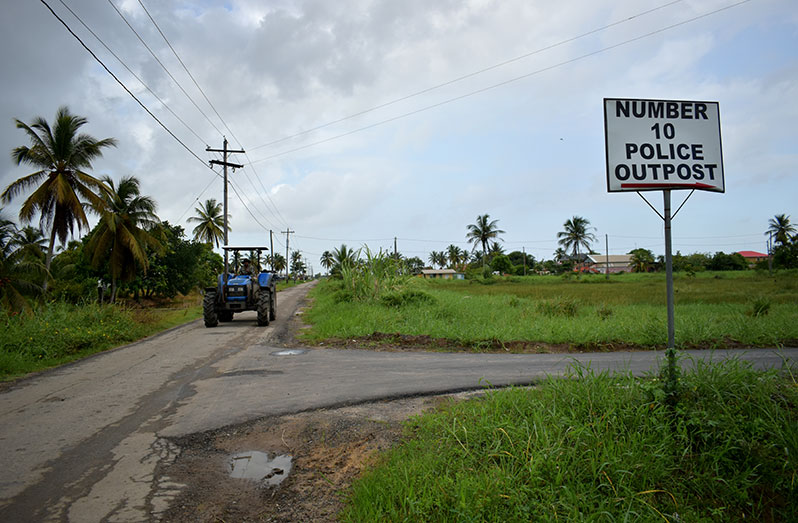 Along this stretch of road, there are about 15 small villages, most of which produce high-quality bora and rice on a large scale.
Number 10 Village is between Industry and Handsome Tree.
This small community has a Police Outpost, a Nursery and Primary School which are housed in one building next to the Police Outpost edifice, which used to be the Headteacher's house.
The houses are scattered near the Mahaica Creek and along the access road.
Number 10 Village is an agricultural community with the main agriculture activity being rice production and cash crops. Residents also rear chickens, goats, sheep, cows and ducks.
There is an abundance of fruits and vegetables in this village and almost every household has a kitchen garden and the people would utilise the canal and creek to fish.
Number 10 Village has 100 dwelling houses and about 300 residents who are either farmers, housewives or small business owners.
The village has a handful of skilled individuals who work in both the private and public sector.
The locals are a bit sceptical when it comes to strangers, but they eventually warm up to the team after we exchanged friendly banter.
It is a village where the people do many things to earn and it is also a place of families, most of them are related by blood and they are very neighbourly.
Number 10 Village is a virtually crime-free place where nothing goes missing, a village where ducks, fowls, cattle and other animals walk on the roadside freely, and doors are left unlocked.
The people are hardworking, and they are hospitable.
Number 10 Village has vast farmlands which are utilised to the fullest for large scale rice cultivation and cash crops.
The lands are privately-owned and plots were inherited from the first settlers, who have long passed on, but their families occupy the lands, some of which they rent to farmers.
The lives of the residents of Number 10 Village were significantly enhanced when the main access road was paved in 2008.
Before the access road was constructed, the village was only accessible by boat and launch which went through the creek.
As a result, of the major development of an all-weather road, more people began settling there, and it was after some time they benefitted from electricity, potable water and internet service.
Some villages are not receiving potable water supply nor electricity.
The launch and boat service became inoperable about 15 years ago after the main access road was built, and the drainage and irrigation system within the village was also boosted to reduce incidents of flooding.
The people of Number 10 Village are self-reliant and pretty much grow their own foods and cattle, so they hardly have to leave the community to make purchases because vans selling almost everything would pass through every week.
The village has three shops vending hardware, fertilisers and other products. Some people would go to Mahaica Market to get essentials when necessary.
Some farmers would still take their produce to various markets along the East Coast corridor to sell on weekends while others would await the arrival of wholesale buyers whenever they have a good harvest.
It was noted that most of the locals have lived there all their lives and for them, there is no place like home, where the heart is and it is their place of contentment.
There are some who settled in Number 10 Village after marriage and they seem right at home, not missing out on much and have adjusted quite naturally to the rustic rural lifestyle.
There are a lot of wide-open spaces in Number 10 Village, clean air and a green environment which is full of trees, fruits, vegetables, plants and canals.
It is safe to say that the village is a breadbasket since 90 percent of the people are farmers.