Village's first settler living a comfortable life in the hilltop community
AS a young man, Andy Seaton wanted to live rent-free and away from family, so when he found an uphill place 20 years ago he decided to settle there and that paved the way for a developing village, Andyville, Koker Creek.
The 42-year-old is originally from One Mile Village and as a young man he and others in his age group used to go to the hilltop place to play and use the creek.
It was then, 20 years ago,that an idea was conceptualised in his head and he decided to clear a plot and settle there, after constructing a little house that was enough for him.
Seaton then became the first settler to reside in what is now known as "Andyville, Koker Creek Village."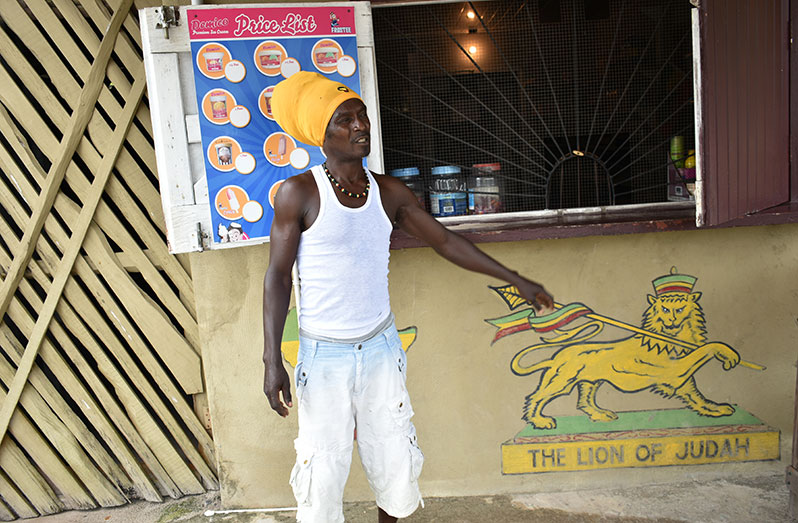 Today, he has a small shop "Lion of Judah' and a cottage at the back of the shop where he lives with his family.
The father of three told the Pepperpot Magazine that back then, the place was thick jungle and at the entrance, there was a large dumpsite, an uninhabitable place.
"An idea came to me and I decided to clear a piece of land and hold a spot where I am living right now after cleaning up the place and building the land; and when I moved there I started to ask people to stop dumping refuse there. Then a few others trickled in and others followed [and] over time, it became a squatting area," he said.
Seaton revealed that the village was to become a sandpit, but he opposed that and now it has become populated and a developing village.
"This place was virgin land, untouched except for the garbage; other than that, it was jungle and I didn't want this place destroyed to become a sandpit," he said.
The locals stated that as is, they have no documents for the lands they occupy, but they have established a Community Development Council (CDC) and they are hoping they can get land titles to foster community-based development.
Seaton reported that the people of Andyville are real hustlers and they work honestly to earn by using their inbred skills to do many things, such as making furniture, carpentry, construction, rear chickens, establish small shops and some work outside the village.
He disclosed that many single parents reside in Andyville and are really trying to enhance their lives by doing many things.
Seaton added too,that there are also many unemployed people around in the community, but they too are trying to seek jobs by making pointer brooms, selling food, snacks, and other things.
Upon entry to this village, Seaton's shop and home are a few metres into the community and he is located at a corner spot and his plot is well-kept and he grows a lot of greenery, including fruits and vegetables.
The local noted that Andyville is a close-knit community and people from all over Linden have since settled there and they live in harmony without any issues.
Seaton related that the village needs a lot more such as good roads, a health centre and schools.
"I know things take time and from 20 years ago to now, things have happened to enhance the lives of the people here and others, who are coming in," he said.
Seaton is a very mild-mannered kind of guy, who does a lot of gardening and in his spare time he is always planting while tending to his shop.
He stated that life is comfortable in Andyville and he is of the hope that a lot more will happen to boost the village, in time.