-exciting listening party slated for tonight at the Garage Bar
ALMOST all of the artistes in the entertainment industry here in Guyana will tell you that they wish more measures were in place to have them adequately compensated for their talent, especially those in the music industry who often have to whip out a lot of money to produce songs and videos that will ultimately end up selling for next to nothing on the streets.
This is not the case with Amelia Thomas, though; she knows how to make money off of her music, and she is determined to show others how to do it. In fact, since her return here from London a few years ago, she has been working on her idea to develop a publishing and distribution company that will significantly aid her fellow artistes in being compensated for their work.
Tonight, at the Garage Bar in Georgetown – said to be a beautiful, open-air venue with a musical vibe, stage, lighting and seating to get you in the mood for some soulful sounds – Amelia and other big names in music will be performing live and will be introducing two youngsters to the industry.
Amelia, who formerly went by the stage name 'Miss Melody,' said that she couldn't be happier at the opportunity to help groom the youths. In fact, doing so is in keeping with her plan to help with training young people, once her company becomes a reality.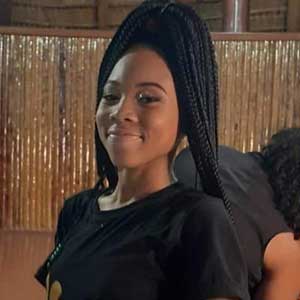 The boy to be introduced tonight is former Calypso star, Jovinski Thorne, age 20, while the girl, Theodora 'Kyra' Denhert is 16. They have both been signed under the same management as Amelia and will also be performing tonight at the listening party.
Apart from training them in overall music development, Amelia explained that her intention is formally introduce Thorne and Denhert as vibrant, young Guyanese artistes who are still relatively new to the local music scene. "…and letting people know that I'll be working with them. Now that we're a family in the same label together, I want to educate them on their publishing and their royalties and how they can make money from their music," Ameila said.
Now, under the management of leading music teacher and producer Burchmore Simon, the Reggae and R&B singer wants to create an arm under Kross Kolor Records where young artistes can go for help with specific things pertaining to pushing and distribution of their music and how to improve their voice, etc.
Amelia is encouraging persons to come down and meet their favourite artiste tonight as the event will feature such well known personalities as Charmaine Blackman, Kunchi, Mark Batson, Diana Chapman and a host of other VIPs.
"Kross Kolor Records and House of Melody present Melody Thomas' Reggae and Blues Listening Party. Come down and listen to my catalogue of released tracks as well as exclusive unreleased songs from my upcoming album 'Demerara Dreams,'" Amelia encouraged.
'Demerara Dreams', she said, features a mixture of genres from the Caribbean and all the songs were written by Amelia, while she was in Demerara; hence the album name. "It will show my versatility as an artist in the kind of music I make because it's a multi-genre album," she pointed out. Her 'Reggae and Blues' – a compilation of singles – is right now available for download.
Having returned from London three years ago to live in Guyana, the 33-year-old mother of two had previously told Buzz she has a plan to help alleviate the troubles, financial and otherwise, of local artistes, who find it extremely difficult to get their music online and published. "They seem to think it's so difficult to do here in Guyana because we don't have a licensing agency here.
So, it's really hard for artists," the singer/songwriter and producer expressed, adding, "I want to make it easier for them to come to me and publish their music and have an agency that can collect royalties on their behalf."
Thomas is a pioneer in royalty management and music licensing through her previous employment as a music licensing agent for a company in London and aims to educate artists, music businesses, and music users alike, on the benefits of protecting their work.