-to focus on domestic abuse, suicide
SEASON Two of "Get Real with Shameeza" kicked off last Wednesday night, with overseas-based Guyanese host Shameeza Ally promising lots of surprises and interesting episodes for the rest of the season.
The show will now be on National Television Network (NTN), Channel 18 Cable 69 every Wednesday starting from 20:00 hours. Almost half of the season has already been planned, Ally told the Buzz in an interview this week.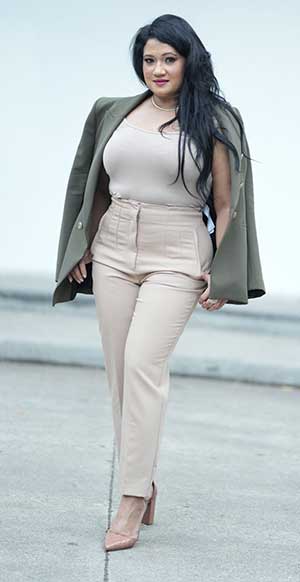 Although many surprises are in store, she related that the shows will feature issues surrounding domestic abuse, suicide, and even different hosts of cooking shows who also have something to share.
According to Ally, the intention is to feature current issues that are being dealt with at a community level and to promote Guyana as an ideal tourism and investment hub. Reflecting on all that this 'Land of Many Waters' has to offer, "Shameeza", during her last visit to Guyana, was especially impressed to see the transformation taking place locally. "I was very happy to see what's happening in Guyana with growth and improvement. It was a proud moment for me to see how great things have become, so I want to encourage others to visit and invest, if possible. That is our home," she expressed.
Ally said she wants her show to feature all of the relevant information that people may need if they are deciding to come back to Guyana and invest. "I want to bring the best and most relevant information and guests on the show."
Ally, a financial advisor who has also been very active in her community, launched the show earlier this year. A mother of four, she left Guyana in 2001 and is now residing in New York.
She related that her thriving career in finance for the past 16 years has allowed her to connect with her community on a personal and professional level and as such, she has been looking for ways to give back to that very community.
The intention behind her show, according to Ally, is to allow for open discussions on the roles of women in society; to allow them to express their struggles, and suggest ways how they can be supported and uplifted.
Her goal is to have men and women open up about the struggles that prevent them from living their best life and to this end, she plans on inviting counsellors and therapists to assist.
She believes that every woman is beautiful in her own way and sometimes just need to be reminded of it. "I want our new generation to live in a world where they can openly speak of their feelings and not be afraid of having to suppress their feelings because of what society thinks of them," she said, adding, "It is crazy enough that we live in a world where we have to struggle so much; if we can be more open and care less about judgment, we can all have more successful and happy lives," she expressed in previous interview.
Outside of hosting her new show, Ally also enjoys cooking and spending time with her family. "I love getting away with family and friends and spending quality time where we can explore and be adventurous." She also enjoys reading and is currently on "Think like a Monk" by Jay Shetty.