–Dr. Singh says
MORE citizens are now accessing their pensions and other National Insurance Scheme (NIS) services, as Senior Minister in the Office of the President with responsibility for Finance, Dr. Ashni Singh continues to lead outreaches across the country.
On Saturday, during an outreach at the Mon Repos Primary School, Minister Singh presented Michael Parris, Guyana's only Olympic medallist, with his pension book, bringing an end to his three-year wait to access this benefit.
Like many other persons, Parris had missing contributions, which prevented him from receiving his benefits when he turned 60 three years ago.  He brought his matter to Minister Singh's attention during a similar outreach held in July.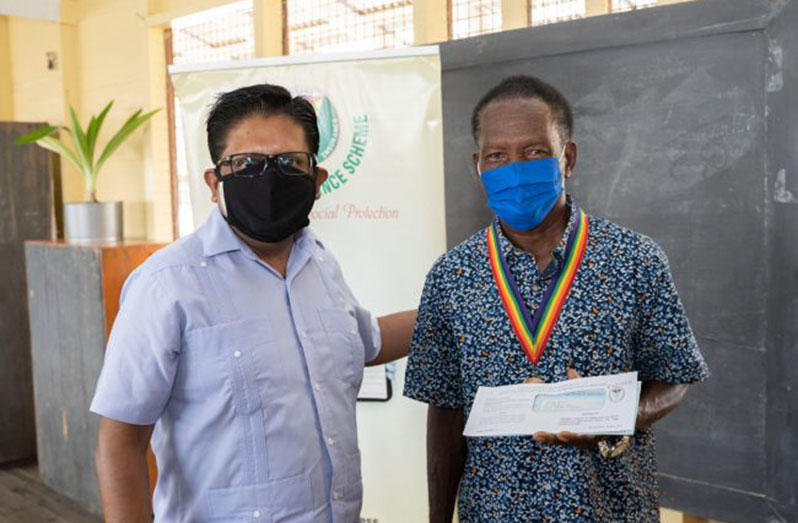 "It is couple years I was not getting it, and I always pray and ask God to let the dream come through, and it come through when I met Minister Ashni Singh," Parris said.
"So, I feel great pleasure, because I always say I do this for the country and no pension. I mean, I have not met the age for old-age pension, but NIS pension. Mr. Ashni come and rectify it; it is a pleasure and an honour," he added.
Parris said the process was smooth and fast, and he is encouraging other members of the public to take advantage of the outreaches being held countrywide.
"People who hear about this thing should come down, and get quick attention than when you are going to NIS. Here, you get through fast," the Olympian said.
Minister Singh, after he being presented with the facts of Parris' matter, instructed the NIS Board and Management to look into the issue, which they did, expeditiously.
"Let me emphasise that Mr. Parris is not the only such case; literally hundreds of similar cases have been going to the management and going to the Board, and have been approved," the minister said.
Dr. Singh noted that the various outreaches continue to highlight the challenges persons encounter when accessing their benefits at the NIS. However, he said the outreaches have also provided NIS with the opportunity to address them.
"We need a cultural change in the NIS; a change that focuses more on addressing people's concerns in a timelier manner, so that we get to the point where we do not need a big outreach like this, but in fact people can walk into any NIS office and get that quality of service. And that is where we want to get," the minister said, noting that training is needed to effect that change.
"I think there is room for customer service training, and I have raised that with the Board, and the Board agrees, fully, that there is room for training in rules and procedures, and options that are available for addressing disputes," Minister Singh said.
Persons who visited the Mon Repos outreach on Saturday had various concerns addressed. These include compliance certificates, contribution statements and payments, registration and replacement of NIS cards, signing and submission of life certificates, and submission of claims among other matters. (DPI)