ONE Digicel Guyana customer, Mahendra Samar, of Coldingen, East Coast Demerara (ECD), walked away as the winner of one of the three Toyota Rush sport utility vehicles (SUV), following the first drawing of the company's massive "Summa Rush" promotion, which took place at MovieTowne Guyana on Saturday.
The heated "Summa Rush" promotion enables Digicel's prepaid customers to have a chance of driving off with one of the three brand new SUVs, once they top up with $1000 or more (scratch cards or electronically), to collect the letters to spell the word R-U-S-H.
Once the top-up is successful, the customer will receive a text message with their electronic letter. Customers can keep track of their letters collected by texting 'SUMMA' to shortcode 1441.
Speaking with the Guyana Chronicle after the first drawing, an overjoyed Samar said: "I had all the hopes and all the vibes to win this 'rush'. As soon as this game was out, I was so excited."
He was one of five qualifying customers who collected all four of the letters to spell the word RUSH.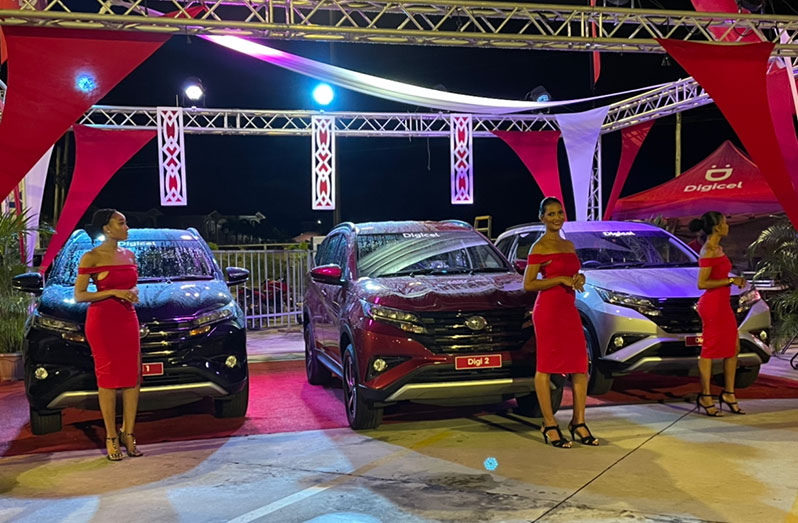 Overwhelmed by emotion, Samar said that he's long wanted a new vehicle, but the money was never there. So, the "summa rush" promotion was ideal for Samar, as it opened the doors for him to drive away with a new vehicle, without spending a cent.
"I said you know what, 'Digicel give me this opportunity to win a brand-new Rush,' so I decided to start buying Digicel cards, because I have a Digicel phone. So I buy Digicel cards, and top up every day," he said.
Samar related that he tops up his phone multiple times during the course of a day; sometimes up to $4,000 and $5,000, consistently and consecutively, since the promotion was launched on July 16.
The refrigeration technician said that he has been using Digicel's services over 10 years now to facilitate his business.
All five of the customers who were part of the first drawing were also awarded an aggregate of $1 million, while Samar walked away with $100,000, in addition to his brand-new Rush.
There are three qualifying periods for the promotion: July 16 – August 5; August 6 – August 19; and August 20 – September 2.
The distribution of the vehicles to the winners will happen on September 4, but Samar is hopeful for the red vehicle, as it is the same colour associated with Digicel Guyana, and he is a proud customer.