–while studying classical music in India
AT just 18 years old, Karamchand Sugrim, better known as Kishan Sugrim, travelled over 9,000 miles away from the 'Land of Many Waters' to the Land of Spices and Rich Cultural Heritage', where he enrolled at the Shriram Bharatiya Kala Kendra, a renowned institute engaged in the training and preservation of traditional Indian Music and Dance.
The cultural institution was founded in 1952 by Sumitra Charat Ram in New Delhi, and imparts training in Indian classical dance styles and music, including Kathak, Bharatanatyam, Odissi, Chhau, and Hindustani Classical music, both Vocal and Instrumental.
It was shortly after Kishan responded to a Facebook post by the India High Commissioner to Guyana that he received an acceptance email from the learning institution. Further permission from his parents, and support from Dr. Vindhya Persaud of the Guyana Hindu Dharmic Sabha and the Indian Council for Cultural Relations scholarship programme that recommended a full scholarship, allowed him to embrace the once-in-a-lifetime opportunity. Consequently, he departed his homeland on August 4, 2018 to pursue studies in Hindustani Classical Vocal Music in New Delhi, India.
On arrival, he was immediately assailed by nostalgia and wanted to return home, given the cultural shock, and language barrier. But, in time, he quickly overcame those fears, and immersed himself into his studies, so as to fulfil the purpose of his three-year tutelage.
Initially, he along with students of other nationalities attended classes six days a week, and were exposed to the Sagram, basic notes in Hindustani music, such as sa- re-ga-ma, pa-dha-ni-sa, before later moving on to what is called Raagas (small composition).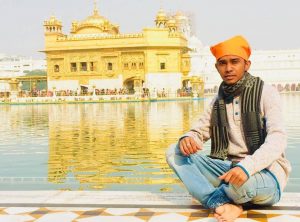 Overall, the studies strengthened and built the voice, while ensuring breath control, uniformity in voice, clarity in voice, articulation, resonance and vocal range were on point. Additionally, he was taught precision, as hours are dedicated to Riyaz ( practice) so as to improve one's ability to render every note, every rhythm in its designated place, not a frequency here or there. Further, the young student learnt dedication and self discipline, as Indian classical music is a rich musical tradition filled with complexities. Following the three-year period of studies, which concluded in May 2021, he amassed a Grade A or 92. 5%, and during his time in India, he was fortunate to be a part of Ramlila, a dramatic folk enactment of the Hindu god-king Ram's life through song, narration, recital, and dialogue. It's an annual show with a 65-year history. In addition, visits were made to the Golden Temple, Chandli Chowk, Himalayas, and Jama Masjid amongst other historic places.
EARLIER YEARS
The elder of two boys born to Soorsatie and Deepanand Sugrim at Reliance, East Canje received his initial musical tutoring from his mother, who taught him the famous Bhajan, 'Rama Ho Rama Re', which he sang for many weeks at regular Sunday morning services at the Mandir. Thereafter, he not only participated in singing competitions, but also sang at many events across Guyana, such as the E-Networks Emerging Voices (Season 2) competition, becoming a finalist and grabbing the third position. He also participated in school events, and in the annual Diwali motorcades.
It was after becoming a finalist in the national competition that he hosted singing classes for the Golden Om Dharmic Youth Organisation, which attracted lots of young people from the East Canje and New Amsterdam areas. This continued even through his stint as a nurse's assistant at the medical clinic of Doctor Ramesh Sugrim, a cultural icon himself in the Berbice Hindu community.
That aside, the aspiring medical practitioner believes there must be a balance between academics and culture, and as such attended the New Amsterdam Multilateral School, where he wrote the Caribbean Secondary Education Certificate (CSEC) examination and secured several passes.
IN RETROSPECT
Looking back at his many achievements over the years, Kishan said: "Travelling in India was on the top of my wish list; it warmed my heart to see so many ancient historical sites, places of worship and amazing epics of this great land. While travelling also, it's given me the opportunity to sample so many Indian foods, most of which are very spicy, but so delicious. The sweetmeats are the best in the world."
As to his plans for the future, he said:
"My goal is to be a better singer, having gained the knowledge of the preamble of music, and in so doing, widely share my knowledge in Guyana."