Determined to find ways to offset the hardships of the pandemic
A SECTION of Crane Village, West Coast Demerara, has a sea dam, just by the foreshore where an extended family Lall, 68, (only name) and his children, their spouses and his 64 grandchildren reside.
This part has 16 houses with 37 adults and 64 children, making it a little village by itself and they have two standpipes for water, but no electricity, although utility poles and distribution lines were installed more than eight months ago.
The father of eight told the Pepperpot Magazine that he is originally from Hogg Island, Essequibo River and many years ago relocated to Crane in search of a better life.
He, like his sons, would do whatever work they get in and outside the community, even if it is weeding, fishing, manual work, throwing paddy, construction or a day job to earn.
Lall said due to the heavy rainfall and high tides, he has experienced flooding and of his 24 ducks, a few died and had to be relocated to higher ground.
The flood lasted a week before the water receded and they were able to fix up the place.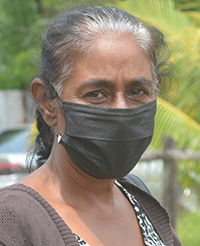 Meanwhile, his son-in-law Safraz Ally stated that due to the pandemic, the children have been unable to attend school and they are at home doing nothing but mischief.
He explained that he has a small solar panel, but due to the constant rainfall, the battery isn't charging as it should and he would like to bring out his television set and have the children at one place to watch the Learning Channel– at least.
The father of three stated that they do not have internet connection; as such,they cannot access online schooling for the children.
"These children need something to occupy their time because they doing all kinds of things and got you talking all the time," he said.
Kendrick Ramphal, a father of five and whose wife is heavily pregnant, reported that he experienced flooding and was in the process of cleaning up.
The 49-year-old labourer added that the water was up to his steps.
These residents said they are comfortable there and do not wish to be relocated.
Military Scheme, Phase One
Meanwhile, over in the Military Housing Scheme at Phase One, Crane Village, Kim Prince, whose father was a soldier but passed away many years ago, told the Pepperpot Magazine that she has lived all her 38 years in the community.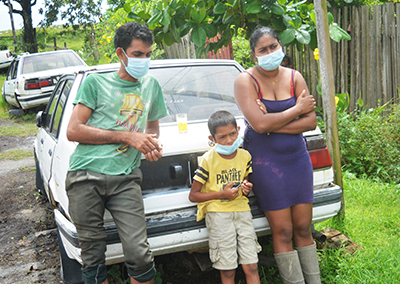 Prince added that the place is quiet and the people know each other and it is a good place to live, because services and other things are accessible.
She is employed at a cooking establishment in the city and would commute daily to work.
The mother of three is quite okay with life in Crane Village, because most people in her street work in the day and return home in the evenings.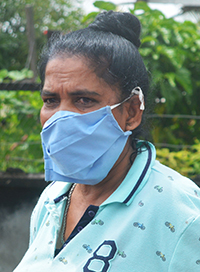 Phase Two, Crane Village
While for the most part, residents are riding the waves of the pandemic, others admitted to be facing difficulties they find harder to overcome.
Over at Phase Two, Crane Village, in another sea dam area, near the foreshore, there are a set of houses with some villagers and one of them is Chandroutie Wong.
She is the mother of four, who has been out of a job due to the pandemic and is also taking care of a grand-daughter.
Wong, 54, explained that she was laid off as a domestic helper when the virus reached Guyana and has been at home since and she is unable to get another job.
She was doing some gardening at the "sea dam," but that was destroyed and she used to sell the greens in the village and get a small amount of money.
Her husband is a construction worker, who is not getting steady work.
Her neighbours, Patricia Williams, 44, a mother of six, told the Pepperpot Magazine that she was employed as a security guard in the city.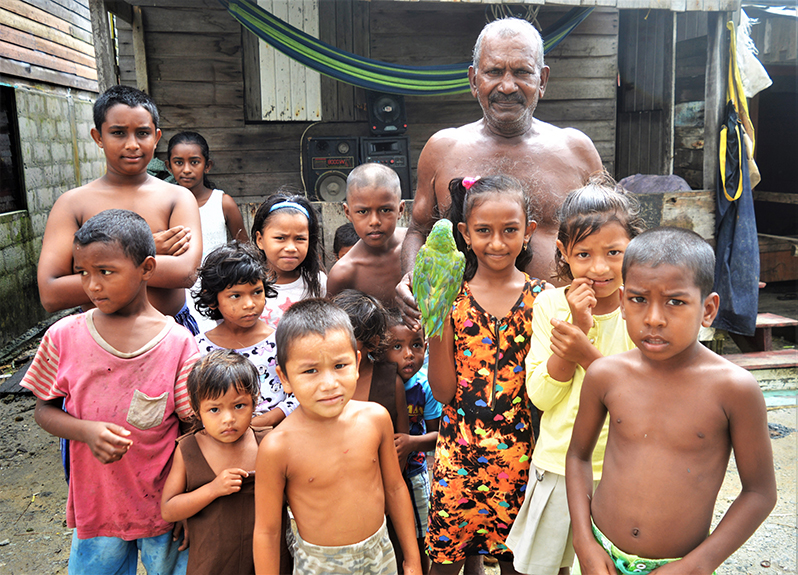 In January this year, she was robbed of her handbag and has been unable to return to work since and needs food supplies.
Dwayne Annie, a single mother of two, stated that she used to work at a snackette on the East Coast of Demerara, but that small business was closed due to COVID-19 and she was laid off and unable to find work.
The 20-year-old reported that things have been hard and money is tight.
Next door, is Rajpattie Persaud, a 59-year-old grandmother who has a small shop; she is left to care for three grandchildren because her daughter was allegedly murdered by her husband, who is in jail.
Crane Squatting Area (Carl Croker photos)
She said she needs help in terms of foodstuff because she is not earning much and it is not sufficient for them.
Next to her is Patricia Singh, a mom of two, who is a housewife and her husband, a construction worker and a part-time taxi driver, is unable to earn due to the pandemic and they too need some assistance.
These residents are contented with their lives in Crane Village, but hope to have some relief from the dire circumstances brought on by the pandemic.