WHILE passing through Glasgow Village, East Bank Berbice, it was somewhat unusual to see a petite Kemila Henry, called 'Annie,' skilfully handling a brush cutter as any man would and even better.
At the time, she was weeding her yard while her two children were raking up the grass under the supervision of their grandmother.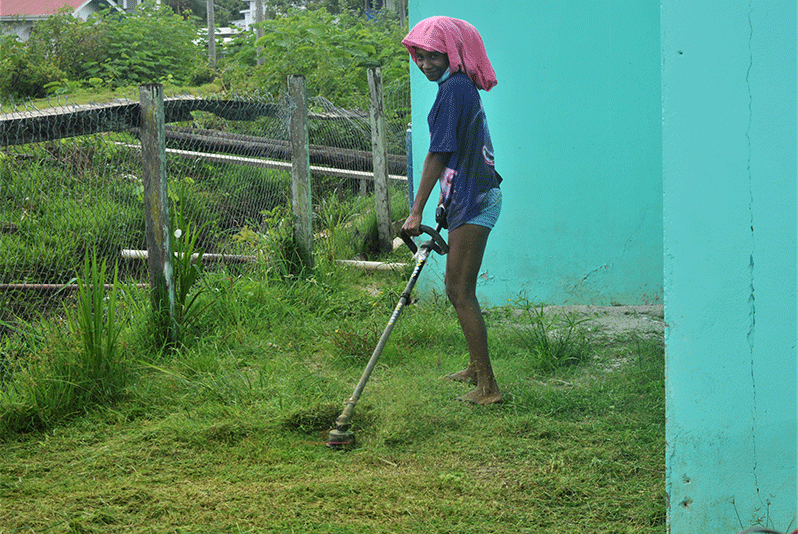 She is said to be an all-rounder when it comes to doing a man's job of landscaping and a handy person, who has a knack for fixing things in and around the house.
Henry lives with her grandmother, Linda Henrymoore, a retired nurse, who lived abroad for more than 14 years is back in her home country and resides in Glasgow Village.
She has a nice house and her granddaughter, Kemila and her two children live with her.
Henrymoore told the Pepperpot Magazine that she was a nurse in Guyana before she migrated and after she returned as a nurse in the United States (US) she wanted to come back home to bask in her golden years.
"For me Guyana is home and I wanted to be here to live out my last years in quiet and peace this country has to offer, so I'm looking forward to it," she said.
The 63-year-old added that while she was abroad her grand-daughter took care of the house and she is happy to have company in such a big house.
"I was praying to be in good health and finish working to reach the age of retirement to come back home, and now I am here it feels good," she said.
She stated that she doesn't know many people in the village, except for seeing her immediate neighbours and would have a chat with them from time to time.
Henrymoore reported that she is originally from Mahaicony Village, East Coast Demerara and was allocated a plot of land in Glasgow and constructed a house and took up residence there.
The mother of two pointed out that her husband still resides overseas and during her 14 years living abroad, she would return to spend some time.
She explained that in 2008 when she started building her house, there were just five houses there and a lot of bushes and today she is pleased to see how the village has developed and is so populated.
Henrymoore said life would be even better if they get landline phone service and internet, because the children need to be occupied with online schooling.
She reported that she got gadgets for them to access the internet, but the service hasn't reached that village yet.
"This is a nice place to live, so far, things have been good especially peaceful and that is what I want," she said.
Samuel Monah
Meanwhile, the Pepperpot Magazine also met another overseas-based Guyanese, who returned here to reside after his retirement.
He, too, resides in Glasgow Village and was at a roadside shop chatting with his fellow villagers when the team met him.
Samuel Monah, 86, told the Pepperpot Magazine that he donated the wooden planks which were used to strengthen the second wooden access bridge to the village when it was falling apart and the authorities did nothing.
He saw the need for the bridge to be repaired and he assisted with money from his own pocket as his way of giving back to the community.
Monah said while things are okay living in the community, the first bridge is in need of repair and vehicles cannot cross it and should be dismantled before something happens and people get injured.
He stated that it has been five months since the first access bridge is broken and left as is.
Monah also wants better roads in the village and the bushes cut.
The elder also asked that the depressed section of the village, Pepper Street, gets some attention since unemployment and poverty have struck the people and to top it off, the pandemic brought added extra strain to the locals.
He pointed out that the youths need to be meaningfully engaged in activities and skills training and a recreational park is recommended, a safe place for people to go and relax and play games.