DIVORCE has gained popularity throughout this modern era, as more and more feel empowered to not stay in marriages that are incompatible. This goes against some of our Caribbean cultural norms, but I do believe it's for the best because persons can freely leave marriages and relationships without having to face certain cultural consequences.
However, every action in life comes with rewards and/or consequences. There are many factors to take into consideration as well, most of which are actively involved in this process. One such factor is the child/children that was/were produced by such a union and how they are affected by the separation or divorce of their parents.
It seems so familiar to many of us, because I'm sure we've heard of the heartbreaking stories that occurred because of this syndrome. There was never a specific name being used in the papers or in conversations around Guyana, but I hope that this article can change that, especially if we want to eradicate such an issue. Many couples who are in custody battles fear that their ex-partner will turn their children against them. Parental Alienation Syndrome entails just that. It is when a parent (the alienator) turns the child or children against the other parent (the alienated).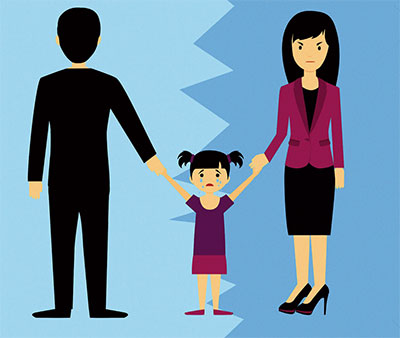 This term was coined by a child psychiatrist, Richard Gardener, in 1985. Gardener posits that this type of behaviour could be used to give a diagnosis on the psychological manipulation or negative influence one or even both parents can have on a child. While this "syndrome" is not recognised by most social work, medical and psychological institutions, and organisations, there's no denying that the main arguments and concepts formulated by Richard are evident in many of the divorce/custody battle cases in our society.
This "syndrome" can affect both the alienated parent as well as the child. The alienated parent can feel a sense of frustration and even hurt by the action of the alienator. The child, on the other hand, feels most of the impacts. The child may not be aware of their false sense of reality and perception due to the alienator and the brainwashed claims. This not only affects the overall relationship the child has with their alienated parent, but also their general idea of self and the world. The child also may eventually develop a lost or misinterpreted sense of self, they may develop trust issues in their adult relationships and they can even fall into depression due to this.
Prevention is always better than cure. Research shows that children who grow up to become adults may never recover from this syndrome. They might grow old believing the false perceptions painted by the alienator parent, without even realising it for a second. How then, can we prevent this from happening? We must first look for signs and symptoms in children. The child may constantly criticise their alienated parent, they may have only negative feelings towards them, the child does not feel guilty about mistreating the alienated parent and the child's negative feelings might also extend to other family members of the alienated parent.
This syndrome should not dissolve the fact that some parents are alienated from their children because they are actually toxic and any relationship they may have with their children can be detrimental for the child. Nonetheless, this article seeks to bring awareness to those parents who are genuine about their feelings for their children. Some parents may genuinely want to have a good relationship with their children, despite the separation from the other parent.
If you are/ were a child who experienced this, then I hope that you can break free of this syndrome. If you're an alienated parent, I hope you never give up on your children and their well-being and if you're an alienator, remember that revenge may only last for a while, but the effects of this syndrome can last a lifetime on your child. Put them first above that.