Bagotville National Library ready and willing
THERE is a popular saying, 'Reading is Fundamental' but these days a lot of people, including children, prefer to bury their heads in a mobile device or watch television rather than read a book like most folk did in the olden days.
As a result of this trend, the Bagotville National Library is providing a service that is unutilised and these days both adults and children are not visiting the facility to borrow books or use the reference section for research.
This government-owned facility is located at the Bagotville Neighbourhood Democratic Council (NDC) building and it is a well-kept place with a lot of new books, internet-ready computers, printing services, newspapers, two sections for adults and children and professional staffers to assist.
Yet, people in the community are not using this service that is within reach and it is practically free. Supervisor, Katyana George oversees the operations of the library and has a staff of three, the facility is cosy and conducive for learning and reading; it is a quiet place.
She has been at the library for the past two years and she is from Parika, East Bank Essequibo and would commute daily, for the love of the job and for earning. George told the Pepperpot Magazine that they have computers with internet service for schoolchildren to use, free of cost, while adults pay only $100 for every half hour of usage.
She related that there is no fee attached for membership, but if the books are overdue a cost of $20 per day is incurred by the borrower.
The Bagotville National Library has very affordable printing services and general photocopying.
George added that the Reference Section, for which she is responsible, is a cosy corner which has seating accommodation with a large table, computer stations for research, well-stacked shelves with books that don't leave the place including gazettes, encyclopaedias, a learning corner, a newspaper section for daily reading, a fan for a cooler atmosphere, sanitising station for COVID-19 prevention and face masks are a must for entry.
"The books in this section remain here and are not for lending, it is just used here for research purposes because it is all hard copies and expensive," she said. George told the Pepperpot Magazine that the Adult Department is located on the lower flat of the building and borrowers can sit and read right there or borrow and take away available books.
Meanwhile, in the Juvenile Department which is housed in another section of the upper flat of the wooden building, they have a wide array of books for the taking, but hardly anybody visits that library. George added that in total the library has in its collection more than 1,000 books, some of which were donated and others bought and procured by the National Library which is headquartered in Georgetown.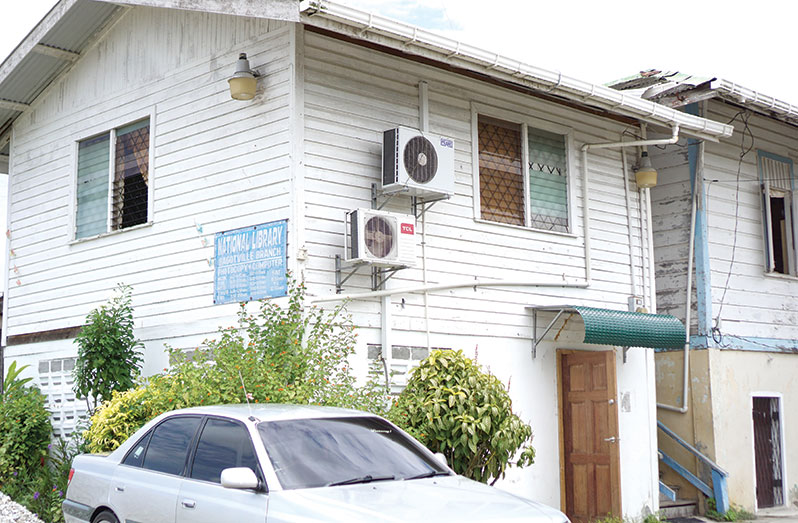 She disclosed that the National Library has five branches which are in Linden, Corriverton, New Amsterdam, Bagotville and Ruimveldt. The Library Supervisor stated that the National Library has 20 active centres countrywide and opens three days per week and the staffers are given a stipend instead of a salary.
She noted that the service at these smaller facilities is from 14:00hrs to 18:00hrs and it also comes under the National Library in the city. The Bagotville National Library has a membership of 20 in the Adult Section while in the Juvenile Department they have about 30 and they collectively utilise the facility once a month or don't show up at all.
"We have tried different things such as awareness campaigns at schools and by way of flyers to sensitise people about the library and its benefits, but still people are not coming to borrow or read these books and it is quite sad that people don't want to read," she said.
In the Adult Department of the Bagotville National Library, only an identification card is required to become a member and for the Juvenile Department, the parent or guardian must produce an identification card to get the child or children registered.