The perfect place for nature and therapy
By Michel Outridge
THIS week the Pepperpot Magazine visited the far-flung village of Mortice, which is one of many small villages located at Branch Road, Mahaicony, East Coast Demerara.
It is located within Region Five (Mahaica-Berbice) and it is home to large-scale rice farmers, cash-crop farmers, livestock and cattle farmers, and also skilled professionals, who hold jobs within both the private and public sectors.
Mortice Village has a primary and nursery school housed in one compound and the nearest health centre is located villages away at Strath Campbell.
The village is home to about 150 residents, who are mostly Indo-Guyanese and they have electricity, potable water, cell- phone service and internet service but it is not reliable.
The main access road to this community is good up to a certain section, after which a mud dam accompanied by huge potholes make up sections of this road.
There are no internal streets in this community, but with just a few houses on both sides of the access road.
It is a nice village rich with natural attractions which remind one of being in the jungle, because of the abundance of greenery that makes up the environment and there are rice fields as far as the eye can see.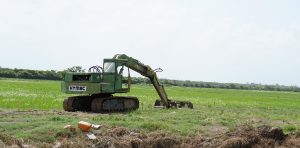 Most of the lands were handed down from generation to generation and most of the villages along this stretch of road were once plantations.
According to villagers, Mortice was a plantation with silk cotton trees marking the boundaries and was owned by a man named Mortice, as such, the name was derived.
However, little is known about his ancestors but after a time, new settlers came to the land and their families began occupying the lands there.
The Mahaicony River is within reach at the rear of the access road where a creek takes you to many other riverine villages beyond Esau and Jacob and Governor's Light.
There are two rice mills within Branch Road, which employ some residents and others work with large-scale rice farmers.
The villagers are hardworking, ordinary folk, who toil from dawn to dusk tending to their crops, livestock and cattle and keeping their farms and gardens weed-free.
The residents of this farming community hardly ever buy fruits and vegetables, because they all have kitchen gardens and they eat what they grow.
As for meats, they rear their own chickens and they have sheep, goats, cows and they catch fish right within the village which has vast backlands, an ideal place for fishing, birdwatching, sightseeing, and cook-outs.
Mortice Village is semi-isolated and the people like it that way and its central point is at Mahaicony Junction, where there are a market, bus park, and several business places.
Residents of this community are self-sufficient but welcome development in any form, since they need street lights, better drainage and irrigation, and a better access road through the village.
Mortice Village doesn't have a Neighbourhood Democratic Council (NDC), but late last year a Community Development Council (CDC) was formed to develop the village.
There are large houses with interesting architecture in Mortice with lovely flower gardens and well-manicured lawns and expensive fences outfitted with lights.
However, over time many people left the village for various reasons, but those that remain one thing is for sure, they seem comfortable and they are environmentally friendly.
Most villagers are locals, while others have been there for many years and have no intention of relocating, since the place is home for them.
Mortice Village is accessible via land and river and it is a lovely, scenic place to live or visit.