By: Indrawattie Natram
THE Region Two (Pomeroon-Supenaam) Regional Democratic Council (RDC) has received reports from scores of coconut farmers in the Pomeroon River area that the Red Palm Mite is wreaking havoc on their crops. The farmers during a recent meeting with Regional Vice-Chairman Humace Odit, explained the extent of the situation and pleaded for urgent assistance.
They related that the coconut plants are showing signs of discoloration and that the pests are easily seen on the plants' green leaves. The yellowing of the leaves they said, are severe and the
middle of the plants is mostly affected. The infestation comes at a time when the farmers like other residents in the region are affected by days and in some cases weeks of flooding. This latest calamity will further harm their livelihoods. Odit during the region's first statutory meeting for the year said farmers met him and raised concerns regarding the infestation. He said the Ministry of Agriculture was informed and pesticide was distributed to some farmers.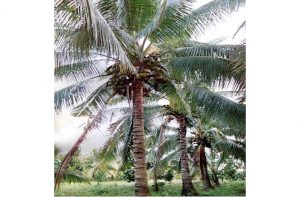 He informed the farmers that a National Agricultural Research and Extension Institute (NAREI) team is monitoring the situation.
Meanwhile, coalition councillor Trevor Cozier stated that many sections of the region remain inundated and now the mite infestation has arrived to cause even more discomfort to residents. Cozier, who lives in the Pomeroon River, said he cultivates eight acres of land and the leaves of his coconut plants are brownish in colour.
He used the opportunity to call on experts to re- visit the area, inspect the coconut trees and conduct the relevant tests.
Cozier reminded his fellow councillors that farmers in the Pomeroon River depend solely on agriculture to support their families.
The region over the years has seen a number of outbreaks and with the use of chemicals and other materials have been able to recover each time.
The Red Palm Mite is a tiny red insect which is barely visible to the naked eye. It feeds through the pores of the leaves of the coconut tree.
The mite damages guard cells in the leaf, resulting in uncontrollable water loss from the plant. Leaves turn yellow, then brown and eventually die.
Without healthy leaves, the trees cannot produce healthy nuts.