– Sessions will be taught in their native languages
By Telesha Ramnarine
SHEA and Sawariwau were two of the first villages in South Rupununi to benefit from a training programme by the Wapichan's Women's Movement that seeks to educate and empower women and girls about issues that affect them and their rights in general.
The best part about the initiative is that the trainers can speak with the village women in their own languages.
The movement is made up of a core group of about 10 indigenous women who were trained by different agencies to pass on their knowledge and skills to the various Region Nine (Upper Takutu-Upper Essequibo) villages.
The group is aiming to conduct the outreaches to all of the 21 villages that make up the South Rupununi District Council (SRDC), and opted to start in the villages of Shea, with 478 inhabitants and Sawariwau, with 549, because of geographical factors.
"We want to come down from Shea which is located at the eastern part; we would come down and go to all the villages from east to west and touch all of the villages, SRDC Communications Officer Immaculata Casimero explained.
A resident of Aishalton Village, Casimero works with women and youths and is one of the women who make up the core group of trainers, having received her training both locally and overseas.
What the group has done is apply for a small Canadian grant last July called the Women Voices Leadership Equality Fund. It's a three-year project that will see the group reaching out to seven villages per year.
The movement, since its formation, observed that the women in those remote communities are vulnerable and hesitant to speak up and hold leadership positions, and hence wanted to do something that might encourage them to be more involved in the decision making processes of their respective villages.
The group wants to raise awareness of the various social ills that plague the communities and to train the women on topics such as gender development, women in development, leadership, public speaking, and self-confidence.
"If you want to be in leadership positions, you have to have confidence and must be able to speak publicly. We also did something called identifying social issues in communities and other issues we think affect them. So they would identify the problems, the causes and brainstorm solutions to curb these issues in their communities," Casimero said.
The village women will also be trained on local laws, national and international laws, and on human rights laws. Information is also being shared with them about things that are happening in other countries, climate change, children rights, etc.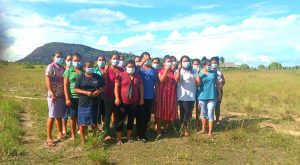 The intention is to equip the women with the skills they may need to be able to speak about injustices affecting them personally and how they can help their village councils to find solutions.
"Region Nine has the highest rate in teenage pregnancy. These are the things we talk about and how women can contribute to lessening these kinds of problems. If we can build that, they can hold moral talks to children in schools and so forth," Casimero posited.
What makes the initiative more appealing is the fact that the women can fully understand what they are being taught because the trainers are speaking to them in a language that they know.
"It's the first time they are learning about all of this in their own language. We saw 53 women from the two villages participating for the two days and they were very happy," Casimero recalled, especially as it was all women and they hadn't any fear to express themselves.
One of the recommendations that came out of this meeting was for trained social workers from the communities to become available to be able to help with the issues of school dropouts, drug use, suicide, and so forth.