FRANK Woon-A-Tai is a popular name in the Chinese culture; the man known for his power, technique, and knowledge of karate. Starting to train at just age 14, he has given some 56 years of his life to the world of karate not only here in Guyana, but across the world.
Born in Georgetown in 1950, Woon-A-Tai began training as a boy in his friend's garage on Fifth Street, Alberttown, and when he was 20 years old, he trained in London with Japanese master Keinosuke Enoeda.
The following year, he travelled to Tokyo, Japan, and trained at the Mecca of karate, the Japan Karate Association and at the end of his stay in 1971, he became the first Guyanese to earn an International first-degree black belt.
Woon-A-Tai and his wife, Maureen (first Guyanese female black belt) took up a five-year appointment in 1976 to teach karate in Jamaica, and in 1980, they moved to Toronto, Canada. Shortly after, he became Chairman and Technical Director of the International Shotokan Karate Federation of Canada (ISKF Canada) and the Japan Karate Association WF of Canada, which he held for 26 years.
"My most outstanding achievement was to unite all JKA groups in Canada in which there were five," Woon-A-Tai told the Pepperpot Magazine in an interview.
In 2011, he formed the International Karate Daigaku (IKD), and in nine years, it has grown to 76 regions in 56 countries. His karate title is 'Shuseki Shihan' (World Karate Master), he holds 9th dan, and is a Guyanese Karate Ambassador of the traditional karate world.
Woon-A-Tai is the Founder and Chairman of the Guyana Karate College (GKC), a non-profit organisation, and he is building a state-of-art dojo at Liliendaal for Guyana's children. The one-acre plot was awarded to him by then President Bharrat Jagdeo. It is now 50 percent completed, but due to the COVID-19 pandemic, work has stopped for lack of funds.
"The GKC, through membership fees and fund-raising, raised $30.1M to get us to the point thus far. In addition, the GKC funded teams abroad that brought honours to Guyana in International tournaments. I am lobbying for a grant from the government to complete the project," he said.
Successors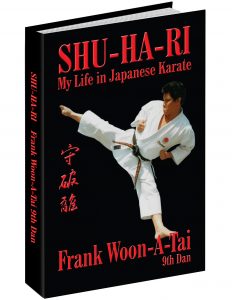 Woon-A-Tai, who became a Member of the Order of Service of Guyana and was awarded the Medal of Service by then President Jagdeo, has started a line of succession for others to take over when he and his present masters move on. They are all over 60 years old, he noted.
The second tier consists of young instructors, most of whom are in university and the third tier consists of junior instructors who are now being trained.
Woon-A-Tai also published his book last September, titled, "Shu-Ha-Ri: My Life in Japanese Karate." It documents his life from an impoverished childhood to a world karate leader, sheds light on the origin of his unique name, "Woon-A-Tai," and traces his maternal ancestors to slaves in Guyana. His DNA shows he is 86 percent Chinese from Canton, China and 14 percent black from Guyana.
"I wrote the book because none of my students knew how karate began in Guyana, and it is to inspire young karate students that they can lead successful and productive lives no matter what. Furthermore, I aim to promote and guide youth in the right direction in life, to keep them off drugs and the street, and to break the cycle of crime and violence through the discipline of karate," he said.
Woon-A-Tai has observed that Guyana stands above other countries when it comes to government support of karate. "They are aware that our children are future leaders of the country. Karate is not only physical, but mental as well. It is 50% physical and 50% mental.
"My students are taught that they must come to class with an empty mind. By analogy, the essential aspect of a cup is not the handle, bottom or size, but the emptiness of the cup. In this regard, students can absorb knowledge. They are taught to stabilise their emotions."
Woon-A-Tai has brought several Japanese Karate legends to Guyana, including Masatoshi Nakayama, 10th dan, Teruyuki Okazaki, 10th dan, Takayuki Mikami, ninth dan, Yutaka Yaguchi, ninth dan, Shojiro Koyama, ninth dan, Shigeru Takashina, eighth dan and Yukichi Tabata, seventh dan. His karate lineage is direct to the founder of karate Gichin Funakoshi.