FOR the people who believe that doing one thing in life, professionally speaking, makes greater sense and achieves the greater good, Guyana Defence Force (GDF) pilot Joel Browne has something different to say.
A lieutenant in the GDF and a commercial pilot, the 34-year-old who attended the prestigious Queen's College, wanted to become a doctor and even pursued a career in the field to some extent, but he also found that he loved music since he was a child.
"My sister and I sang gospel music; we did a song called 'Guyana's Children' that played on Channel 11 for years. I grew up in church, so I always loved singing," Joel told the Pepperpot Magazine.
So from about the age of 14, Joel was already familiar with playing musical instruments and being into production. So as soon as he had the opportunity, he went to the United States of America (USA) to pursue a Degree in Media Arts which involved audio recording. It was during this time that he found his love for producing music.
Joel has since been able to work with some of the best local artistes available, and to produce songs for some of the biggest names in the Caribbean. Apart from collaborating with Kwasi 'Ace' Edmondson, Adrian Dutchin, Jumo Primo, Dexter Dax, Beenie Man and Tarus Riley.
After returning to Guyana from the USA, Joel was going to Mabaruma to visit someone when he flew in a small aircraft and found that he enjoyed it. The experience got his attention to the point of making him want to learn how to fly himself.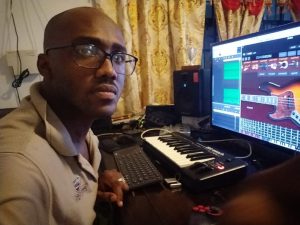 So he started training at Air Services Limited Flight School, after which he went back to the USA to do further training. "I initially didn't plan to be a pilot," he recalls, and with his wife Judy Browne being a doctor here in Guyana, he decided to stay here and look for a job in either the field of music or flying; he was qualified in both.
Following his application, the GDF told Joel that they were looking for pilots who went through the cadet course and not random ones. So he did the cadet training for two years, was promoted and began flying the skyvan.
The father of two, who is also very devoted to his family, says he couldn't be doing so much professionally hadn't it been for the support from his wife, parents and sisters.
Through it all, they never complain, he said.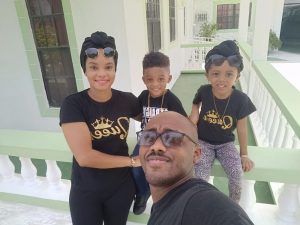 But he noted that balancing everything can sometimes become challenging. "Having to do flights… due to military, we have a lot of responsibilities in terms of going into the interior and providing medivac, taking in food and supplies for soldiers. Balancing the long hours of flying all day and then at night producing music can be challenging, but it's very rewarding," he said.
Joel is hoping to have his own modern state-of-the-art studio that can run live recordings and do live broadcasts on social platforms to allow other youngsters who love the arts to have a platform to broadcast and record their music.
"Big dreams are attainable," he says, adding, "People might think you can only do one thing in this life, choose one and stick with that. No, you can do as much as you like. You just have to stay focused and you'd be able to do it. Don't let it be about what people tell you."