By Vishani Ragobeer
GETTING into the legal field was not a childhood dream for 24-year-old Audreanna Thompson, but even so, it is one she developed a passion for and now, she intends helping to improve the criminal justice system in Guyana.
The young woman, one of Guyana's newest attorneys-at-law, was admitted to the local bar to practise law in Guyana on November 20. Her petition was presented by attorney-at-law Timothy Jonas to Chief Justice (ag), Roxane George-Wiltshire.
After her admission, Thompson told the Guyana Chronicle that she felt excited, blessed and humbled. It is her view that law is a truly noble profession and one through which she would be able to help others in their pursuit of justice.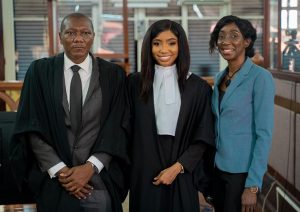 "My interest or my passion is in criminal law," Thompson said. This was nurtured during the time she spent at the Hugh Wooding Law School (HWLS) in Trinidad pursuing her Legal Education Certificate (LEC). Here, she said that all the attorneys in training were able to delve into criminal law, looking at cases from the start to end.
"I recognise that in the criminal justice system there are certain restrictions or limitations to justice for the average man because of the backlog of cases in our judicial system; some don't necessary [sic] have access to legal representation and only have legal aid; some aren't aware that there is legal [aid] and go underrepresented [sic]," she lamented.
Thompson was struck that accused persons were underrepresented, or unrepresented entirely, resulting in their matters before the courts being prolonged and so they spend more time behind bars. She said this interferes with their access to justice.
Cognisant of these limitations, something "sparked" within her to contribute to this specific field within the legal system. Thompson said she could envision herself working at the Office of the Director of Public Prosecutions (DPP) or even as a defence counsel.
"My passion in that regard is to see people get the legal representation they need and the advocacy that they need and contribute to reducing that backlog," Thompson highlighted.
Additionally, as the eldest of six, her goal is also to set a positive example for her younger siblings. She shared that she has a close-knit family, which has served as her support system through sometimes very trying times.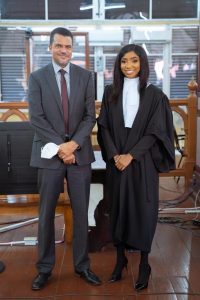 And in fact, it was her father, also an attorney-at-law, Adrian Thompson who 'gently' nudged her into this field a few years ago. Interestingly, he was admitted to the bar 24 years ago– the same year she was born.
The young Thompson recollected that after excelling at her Caribbean Secondary Education Certificate (CSEC) examinations at the St. Joseph High, she was unsure what her next move would be.
Thompson said she briefly considered pursuing a degree in Spanish at the University of Guyana (UG), but her father advised her to attend sixth form and do law, and suggested that thereafter she could decide whether she wanted to pursue it further or whether she would pursue another career path.
She found this to be solid reasoning and decided to attend the St. Rose's High School sixth form and to write law as one of her subjects at the Caribbean Advanced Proficiency Examinations (CAPE).
"In the first year, I got a Grade One and I think I was like the only person to get a straight 'A' profile and I thought 'okay, I'm good at this and this is interesting' and my potential career started there," she recollected.
She graduated and applied to do her Bachelor of Laws (commonly referred to as LLB) at the University of the West Indies (UWI) in Cave Hill, Barbados. Unfortunately, challenges prevented her from pursuing the degree there but that never deterred her. She returned to Guyana and did her LLB at UG, before heading to the HWLS for her LEC.
For any person interested in pursuing law, Thompson emphasised, "Law isn't hard, but it's definitely challenging."
She, however, related that once you possess that level of commitment to a particular goal, then success is concomitant. She also emphasised the need for a support system, which she found in God, her parents and close-knit family and her colleagues who were 'roughing it out' with her.