-overwhelming response motivates young entrepreneur
DEFYING all odds, Earlecia Kieronymo. the owner of Khayr Organics, an on-line skin and hair care products business on Saturday opened a walk-in store.
The business which was launched on March 20 in the middle of the COVID-19 pandemic, can be found at 86 Hill Street between Norton and Princess Streets.
In an exclusive interview with this publication, the young entrepreneur expressed that Khayr Organics has been growing rapidly since its introduction to the local market.
Given the influx of customers, Earlecia began making the necessary preparations to expand her business.
"I had to start bringing in larger amounts of inventory and took on my little sister as a team member to stay at my pick-up location while I do deliveries. It was hard to manage online and social media while having a full time job and I started to become a bit frustrated and demotivated. Sometimes I would have to go home after a 12-hour shift and make two or three products, fall asleep half way and wake up at 5am [to] finish packaging to fulfil deliveries on my day off," she explained.
Since running an online business and working at a full-time job presented a number of challenges, the young entrepreneur decided that it was time to run a day- to-day business from a physical store.
"A few houses down from my pick-up location and the neighbourhood I spent my teenager years living in, there is a big building that was once a business place but wasn't being utilised. I saw so much potential in the space and envisioned how I can beautify it. I spoke to my friend who is the owner's son and just pitched the idea. The next day he cleared out the spot and I really saw myself operating out of there from then on. I sacrificed every last dollar I had to complete it. I am very pleased with how it turned out and look forward to all the blessings my little space has to bring," she stated.
SACRIFICING TO SUCCEED
Earlecia made a lot of sacrifices in her pursuit of success.
She balanced financial strains, self-doubt and restrictions that were created by the current pandemic. However, constant prayers, persistence and sacrifice ensured that she was able to reach where she is today.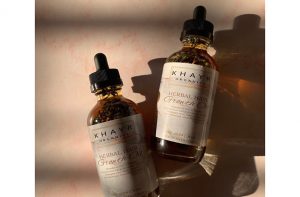 "It was most definitely challenging in many ways, I was doing everything under a very strict budget and aside from the physical building, I still had to have stock for the store. I import most of the ingredients and packaging since it's so hard to find them here and shipping costs are so expensive. Many times I would feel as if I should have never done it, and I left myself without any money that I ever made from the business at all, but I had to understand that we must sacrifice to gain. I put my God in front of this entire process and trusted it. I know that I am passionate about this and I am willing to work even harder than I do now to see it grow continuously, so the challenges I will always overcome some way or the other," she articulated.
She has already started planning for the future.
In another five years or so, she hopes to create Khayr Co., a group of companies/businesses that will offer consumers the amazing Khayr experience with a difference and quality products.
"I envision myself having a little mall of my own, with only Khayr businesses. I really don't like to talk about it much, because big dreamers are not always taken seriously in society today, especially when you are building your legacy from the ground up. But it's something I manifest to myself all the time, and I know that if I keep at it, I can achieve it. There is no such thing as doing too much; as long as you have a plan, proper management and the will to push through the odds. I am growing and learning something new in the business world every day and I aim to never settle for the ordinary," Earlecia emphasised.
Earlecia can be contacted on 665-6266.