– Local musician turns to gardening for therapeutic relief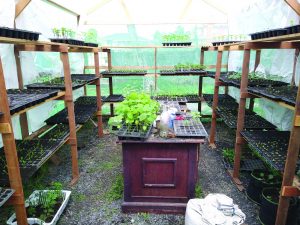 LOCAL folk musician Gavin Mendonca never imagined that he would find therapy in gardening, having never sown a seed in his life. But the onset of the Coronavirus pandemic, which Gavin admitted took a toll on his mental health, caused him to look in the direction of agriculture.
And he couldn't be happier that he did! Today, he speaks as though his love for gardening has been there for years, and recommends it as a sure form of therapy for those who are bogged down by the ills caused by the pandemic.
Losing income after having to cancel all of his upcoming performances and being unable to work in the studio on his Volume Two 'Folk it Up' album were harsh realities that took a toll on Gavin, making him feel "helpless" and as though his dream was being snatched from him.
When the anxiety, depression, loss of passion and drive all kicked in, he was forced to consider that the pandemic was indeed affecting his mental health.
With more time on his hands, and considering that gardening is known for its therapeutic benefits, Gavin decided to start up his own kitchen garden, with encouragement from a friend, Andrew Campbell, who gifted Gavin his first set of seeds.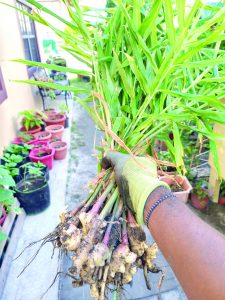 "I started spending hours in the garden [and] certain disciplines were reintroduced, such as patience and dedication, punctuality and care. Rather than sulking and wasting time, I was reconnecting with myself through the time spent in the garden – every single morning as the new sun would rise, and every single evening as the old sun would set," Gavin expressed.
Even with very small yard space and infertile soil, he came up with creative ways to repurpose old materials such as wooden structures, old grills, gates and PVC pipes to make trellises and harbours for vines to run.
Noting how beneficial his garden has been for him, Gavin said: "It meant fewer trips to the market, less exposure to COVID, and a feeling of food security. It showed me that not knowing what to do sometimes is okay; it is okay to start over from scratch. From a single seed can come a life's worth of accomplishments."
He started off with Ochro, Corilla, Bora, Pakchoi, Tomatoes, Lettuce, Squash, and to his surprise – was very successful. He even took a liking to growing sunflowers in his garden which proved to be a major attractor of bees and other pollinators, ensuring a thriving and fruitful garden.
"In all the chaos that the world currently has to offer and how taxing it can be on the mind, I find solitude and peace in my garden, where I am able to shut out the world around me and focus only on the 'now'; only on what is right in front of me and what I am able to control.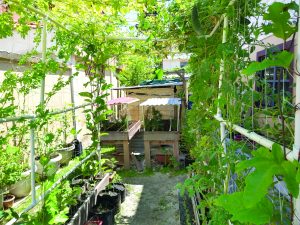 "The garden teaches you that from nothing comes something, and that a single seed can turn an empty space into a lush and healthy forest. And such meditation and focus is the ultimate answer to a happy and healthy, fulfilling life," he expressed.
Since March, Gavin has been able to successfully grow and continues to harvest crops mentioned before, as well as Corn, Carrots, Passion Fruit, Kale, Ginger, Butternut Squash, Cucumbers and herbs such as Dill, Parsley and Basil.
Music updates
Together with his pal 'Chucky' Gavin has announced that since their last gig together in March, they are finally going to be able to do a live performance at the Almond Tree Farmers Market on Nov 14, 21, 28 and Dec 5.
The cultural duo will also have their own special – 'Folk Up Yuh Christmas with Gavin and Chucky' – which will air throughout the Christmas Season on NCN.
The two are also back in the studio at Kross Kolor Records recording 'Folk It Up Vol. 2' as well as an album of original songs, the first which will make its debut on the Christmas Special, and will officially be released on New Year's Day 2021 – signalling a fresh start and new energies as Gavin and Chucky continue to contribute to the preservation of Folk Culture through Music.