By Marissa Victoria Foster
PERE Cherise Marlena DeRoy is a name many will remember in years to come as it relates to academia and research. Her academic journey began when she attended the Richard Ishmael Secondary School. Today, she is a social scientist and is currently honing her skills as an academic to teach and continue in the production of knowledge.
She considers herself a feminist scholar and policy analyst. She is interested in using policies to reshape how we live, to address inequalities among us that produce oppression and discrimination. "My expertise lies in policy formation and always connecting the relevance of policies to different groups of people regardless of their religion, class, gender identity, sexuality, location (whether rural or urban)." As a child of the Caribbean, she focuses 90% of her research studies on the Region, particularly on Guyana and Haiti. Issues relating to labour, gender and the political economy, housing, maternal healthcare, reproductive health, services and rights, sexuality, gender and access, and general conversations of creating, monitoring and evaluating national-development goals are all under her radar. She also spent a significant amount of time on understanding global organisations and how the policies are implemented and engaged within local settings.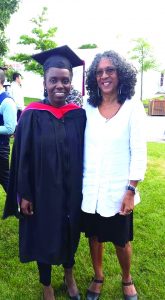 Growing up with limited resources for education coupled with the feeling of having unwanted opinions motivated her to ask questions about everything. From income gaps, domestic violence, racism and anti-racism, colonialism legacies on economics, the ways in which racialised people engaged with each other and the access they deny each other. She stressed how her mother always had to calculate sending her to school, being able to afford lessons and provide money to pay for her School Based Assignments—they simply couldn't afford it.
In her childhood teenage environment, there was not much to envision or dream of. As soon as she woke up in the morning she'd witness violence in different forms, hunger, high rates of sexual violence and the perpetual cycle of oppression. Growing up, she never accepted information at face value. She explained that she always had questions about why the social world is the way it is. "This led me down a path of honing my skills in conducting social-science research. I have done research ranging from gender and sexuality, the impact of the extractive industry, language and development, reproductive and human trafficking."
There are teachers that she probably still owes money because of lessons fees. They allowed her to attend their lessons without a hassle to pay. These and many more acts of humility from her fellow Guyanese paved a way for her to become the woman she is today.
In addition to being a third-year PhD student, she is a Doctoral Research Fellow at the Institute for Policy & Social Research (IPSR), and she is also a Graduate Fellow in Foreign Language and Area Studies (FLAS) which is a federally funded opportunity to conduct language training and pursue research on history, economic and social development in the Caribbean in Kansas.
They are both positioning her as a scholar transnationally and in the Caribbean Region. Pere published one chapter on LGBT and the Law in Guyana, and from time to time, she'd voice her opinions in local newspapers. Pere moved to Toronto, Canada in 2014 to complete her first Master's Degree. She later moved to Kansas, USA to complete her second and she is still currently there obtaining her PhD.
At the moment, she has a few academic achievemens under her belt; she has a Bachelor of Social Science degree in Sociology and a a Post-Graduate Diploma in International Studies from the University of Guyana, a Master of Arts in International Development Studies from York University in Toronto, Canada, a Master of Arts degree in Women, Gender & Sexuality Studies, Master of Arts, and is currently a third-year PhD student in Women, Gender & Sexuality Studies, PhD with a specialisation in Public Policy and Administration.
When asked how she thinks her field of study is perceived by Guyanese, Pere responded by saying "There is always need for persons in my field. We started making institutional change for women because people have entered into this field to study the issues affecting women. There are people who are studying how climate change impacts on gender relations, or gender and trade; there is more need for people to understand how gender and race relations affect people's well-being…."
She continued by explaining how Guyanese perceives the idea of PhDs, "Sometimes I can't say if I would be taken seriously in Guyana with a PhD because sometimes I get a push back. There is a question of 'what I am going to do with a PhD?' Sometimes people are proud of you in terms of these big accomplishments, while not seeing the connection to how more learning and engagements with a topic can help us to think better and do better."
Her sage advice is to do what you like, what brings relevance to you, the world you are from, or a problem you are witnessing. For her, she entered a world of knowledge and people she wouldn't have had access to. Her confidence and ability to speak intelligently about a problem, concern or ideology is a result of all this studying. Graduate school forces you to think, think big, think deeper and wider at the same time. Studying for a PhD is no joke. "I remember when I was studying in Canada I was at the library from 8am to midnight sometimes. Then I would travel for like an hour to get home, then I would continue studying. It is an intense process. You are literally reading hundreds of pages a week. A good night for me is a light reading of 100-200 pages with no distracts from emails, students, family or desiring delicious Guyanese food. Then I would prepare for a good night's sleep like if I were preparing for an event", said DeRoy.
She had no experience living outside of Guyana. As such, there was a lot of additional burdens while studying abroad. She had no family members with her, had no experience with winter and its harshness and she had no close friends around. Even food and not knowing where to get spices that she is accustomed to negatively affected her mood and resilience to complete her education at a specific time. Nonetheless, she volunteered with the Red Thread, a local organisation that has a network of women in Toronto. Without that support system of women in the network, she expressed that she probably wouldn't have survived. They took her in and provided great mentorship. They were her family. DeRoy is also filled with gratitude towards people like Kamala Kempadoo. She is a renowned Caribbean and international scholar and was also Pere's professor at the time. She was there as a mentor and guide for her in times of need. Kempadoo even attended her graduation as a family member because her Guyanese relatives were too far away.
With only two more years of school left, she is more focused on getting into conferences, passing two more very important exams that lead to her doctorate and collaboratively working with amazing professors from the Caribbean. Her success in graduate school is not only an individual journey, but definitely a collective process. Obtaining a CSEC certificate is a major accomplishment for many, but Pere has pushed and persevered beyond social boundaries. She went from growing up in a working-class household in East Ruimveldt to becoming a Caribbean scholar. She hopes her story can inspire the youth of Guyana who may want to pursue and further their studies at the tertiary level. Even with all of her accomplishments and the commitments in studying, Pere is simply living life one day at a time.