TWO weeks ago, 16-year-old Ashley Williams was devastated after being awarded an ungraded result for one of the nine subjects she wrote at this year's Caribbean Secondary Education Certificate (CSEC) exams.
That result was recently changed, and she is now basking in the accomplishment of having passed all of her subjects.
Williams is among 23 students of Patentia Secondary School, who received an ungraded result for the Office Administration exam. Twenty-two students had also received the same result for Principles of Business (PoB). They have since received a grade for those subjects.
An official of the school related that most of the students have now received Grades One to Three in the subjects.
The students first saw their grades two weeks ago when the Caribbean Examination Council (CXC) released the results. Students in Guyana and across the Caribbean were able to access their results via a virtual portal.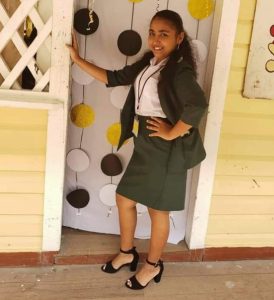 "On that night I hardly ate anything because I was so worried about my ungraded result. My mom tried her best to console me. I had to look back twice. I didn't know if I was seeing right, I was so shocked," Williams shared.
Patentia Secondary School is among 20 schools across Guyana that reported an unusual amount of ungraded results in varying subjects at the CSEC and Caribbean Advanced Proficiency Examinations (CAPE).
The Council has faced widespread backlash across the Caribbean given unprecedented discrepancies, including a high number of "ungraded" results and unjustified lower than expected grades.
The affected students believe that the discrepancies are due to the Council administering a modified version of its customary examinations, this year.
"CXC promised us that everything would have been ok, but upon seeing all the mistakes that they made, I'm questioning myself if that is what they assured us," Williams expressed.
Last week, the Ministry of Education (MoE) announced that following queries made with CXC, 11 of the schools with "ungraded" subjects, including Patentia Secondary School, have since had the correct grades awarded. This development has brought massive relief to the affected students.
"I feel so happy because I know I would have worked so hard for that Grade One, it feels nice," Williams expressed. She now has six Grade Ones, two Grade Twos and a Grade Three.
Aside from Patentia Secondary, students' issues were also addressed at Port Kaituma Secondary, Annandale Secondary, New Amsterdam Secondary, Paramakatoi Secondary, Harmony Secondary, Carmel Secondary, Central High School, The Bishops' High School, Leguan Secondary School and Mahaicony Secondary School.
HEARTACHE
At Port Kaituma Secondary, Keron Williams (no relation to Ashley) is still waiting to hear what grade he was awarded for the three subjects he has the ungraded results for.
He is all the more apprehensive because they include Mathematics and English A, which are two crucial subjects needed for the easy navigation of post-secondary school life. He also got an "ungraded" result in PoB.
"Those are the major subjects. I applied to University of Guyana (UG), and you need your Maths and English," said Keon, who wrote 12 subjects.
He has already received eight Grade Ones and a Grade Two, but the apprehension of his "ungraded subjects" has left him unable to enjoy his accomplishment.
"My heart ached when I saw that. I thought it was me alone, but I called my friends, we were all having panic attacks, wondering what is happening, what did we do wrong? The stress and unnecessary panic we went through, that was not healthy for our minds," he said.
At his school, 62 candidates received ungraded results for the CSEC Mathematics and English and more than 20 students were also affected in PoB.
GLAD
At Annandale Secondary School, head teacher Nicholas Persaud, confirmed that his students have already received grades, after 43 students were initially "ungraded" for Economics. Confident in his students' performance and the schools submission of the School Based Assessments (SBAs), there was never a doubt in Persaud's mind that the issue was with CXC and their system. From the onset he had assured his students that the issue would be rectified.
With the situation fixed, he is glad that his school can boast an over 80 per cent pass rate in the subject, with an overall pass rate of 88 percent across all subjects.
"They [the students] are happy because it's more passes for them, so obviously they would be happy. I called them personally and give them the grades," he shared.
At Carmel Secondary, an official said the new results for the more than 30 affected students have not yet been conveyed to them.
Aside from schools where students received ungraded results, 24 others have requested reviews for unsatisfactory results across 20 subject areas for CSEC and six schools submitted requests for review of unsatisfactory results in seven subject areas for CAPE.
The MoE noted that a number of factors contributed to candidates' results being recorded as ungraded; however, no information was provided on what exactly those factors were.
Many of the schools were requested to provide proof that they had submitted the SBA component of the exams, leading many to believe that CXC had issues with their system.
For 2020, due to the COVID-19 pandemic, the Council delayed its customary May/June examinations until July/August and modified CSEC and CAPE to exclude the regular Paper Two component.
The students and their supporters have called on the Council to explain how the percentage was redistributed this year, given the omission of Paper Two, and what the weighting and scoring methods for this year's examinations were.
The CXC Chairman, Professor Sir Hilary Beckles, has since convened an independent team to review the 2020 examinations, and present a report to the Council by Friday, October 16.
The team is tasked with reviewing the modified approach used in the administering of the July/August 2020 CSEC and CAPE examinations; the moderation process applied to the SBA for these examinations; and the grading process used for the examinations, among other related matters.