– sugar workers and other stakeholders will be treated with respect, says agri minister
By Rabindra Rooplall and Nafeeza Yahya-Sakur
THE management of the Guyana Sugar Corporation (GuySuCo) going forward will not be allowed to use a high-handed approach when dealing with sugar workers and other stakeholders in the industry, said Agriculture Minister Zulfikar Mustapha.
He gave the assurance to stakeholders during an interview with the Guyana Chronicle on Wednesday, in which he disclosed that a new board of directors will be installed soon and there will be a total re-organising and revamping of GuySuCo's management.
"In 2015 sugar worker felt they would have had increases in wages and salaries, but 7,500 of them lost their jobs, they were even unable to come out and protest; as such, GuySuCo will not be allowed to take high-handed decisions. They will have to talk with the farmers," he said.
Management, the minister said, must also take a lot of blame for their actions and inaction in dealing with workers and their representatives.
"We have to ensure that we have cordial relations between the union and the corporation and we have to have managers who are responsive to the needs of the workers and I think we will resolve those issues," he said.
He also reiterated that the government remains committed to reopening the closed sugar estates. President Dr Irfaan Ali speaking to a group of East Canje, East Berbice residents on Tuesday, also reaffirmed government's commitment in this regard.
"In our manifesto we said we will address the issues of sugar, the issues of employment, the issues of livelihood and living conditions at the household level and I want to assure you that those commitments are as strong today as the day we would have made them. And we are going to ensure we make the necessary investment to bring back the jobs that were lost in these communities," the President said.
He continued: "We are committed to the sugar industry; we are committed to the recreation of those jobs that were lost; we are committed to spending in these communities, improving economic prospects, improving living conditions and importantly, in the coming days, I will be announcing a set of measures that would bring back more spending on the community level that would put back more money in the pockets of people and that will be delivering some of the commitments of our manifesto."
In an invited comment, he told the Guyana Chronicle that all the estates will be reopened, but the Wales Estate is a problematic case.
"I can confirm with you that all the estates except Wales where the asset [sic] has been completely destroyed and sold out, in the case of Wales, we are now working on the Wales Development Authority to have the Wales Estate come under a development authority so that we can create opportunity, create employment for the people in Wales. In relation to the other estates, we have already commenced work; we are talking to management in having a thorough understanding of the state of the assets so we will know what level of investment in relation to the asset is required. But the commitment is that these estates will be brought back into operation," he said
On Wednesday, Guyana Agricultural and General Workers' Union (GAWU), General-Secretary, Seepaul Narine, along with other officials from that union and the National Association for Agricultural Commercial and Industrial Employees (NAACIE), also met with Minister Mustapha.
During their discussion, Minister Mustapha indicated that the government remains committed to its manifesto promise of reopening the estates.
WORKING ASSIDUOUSLY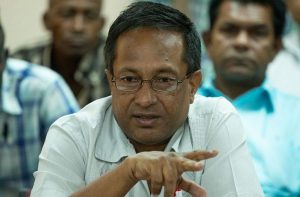 "We are working assiduously to reopen the estates. There is a task force currently working to assess the current state of the closed estates. I've also engaged the Indian high commissioner and he has expressed his government's willingness to assist with this. We recognise the economic and social benefits of having the estates open and we will be putting all of our efforts forward to ensure everyone who benefited from those estates will soon be able to enjoy those benefits once more," Minister Mustapha said.
GAWU General-Secretary Seepaul Narine said diversification is needed if the industry is to become profitable.
"I'm happy you spoke about your dialogue with the Indian government, because one of the things we can look at in the future is to engage the Indian government to acquire equipment to assemble factories at these estates. The factories do not have to be as big as the ones that were closed," he said.
In fact, Narine said the project can be more about making an entire complex, where government can set up a distillery and explore the production of other feasible products from the sugarcane such as animal feed and organic compost, among others.
"You can also look at the packaging, branding and marketing of molasses. There is a favourable market for it, especially in Europe, since people are cooking with cane sugar molasses rather than casreep. These are all ways in which the industry can diversify and become profitable," Narine said.
EXPLORE OTHER AREAS
He also advised that government explore areas such as cogeneration and the use of bagasse and other bi-products of sugar cane that are usually discarded after the production of sugar.
Minister Mustapha informed the officials that as a result of his meeting with India's high commissioner, two technical officers from India will be coming to Guyana to assist government with the diversification process.
"As a matter of fact, I recently submitted the Terms of Reference (ToR) and they (the Government of India) will be sending two specialists to assist with the re-organisation of the industry. This is the first step. I've also discussed acquiring the equipment necessary to assemble factories at estates that were closed. Many of the factories were left as empty shells and in order for us to reopen those estates we need to replace all of the equipment. The high commissioner was very interested and we will have further discussions on it soon," Minister Mustapha said.
He also assured the officials that he is looking forward to working with GAWU to revamp the entire sugar industry.
"Rest assured I am willing to work with the union. I need your help and guidance as stakeholders and together we will revamp the entire sugar industry. I think that we are in exciting times and with the vision we have, we can manage these estates and get people back to having gainful employment. The first goal is to ensure that we reopen, re-employ people and we come to a breakeven point," Minister Mustapha said.
As it relates to issues of management in GuySuCo, Minister Mustapha assured the officials that the 'top-heavy' attitude and improper dissemination of information to workers will soon be a thing of the past.