MING's Optical in collaboration with the Georgetown Durban Park Lions Club, on Monday, presented spectacles to sixteen school children at their New Market Street, Georgetown clinic.
Dr. Michele Ming, Optometrist, along with Ms. Simone Beckles, club president; Ms. Denise Boodie and Ms. Makada Oudkerk from the Durban Park Lions Club handed over the spectacles to sixteen school children from Tucville Primary, Smith's Memorial, St. Sidwells, Enterprise Primary, St. Thomas Moore Primary and South Ruimveldt Primary.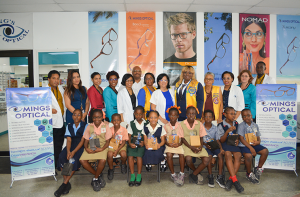 World Sight Day was observed in October 2019, when the Lions Club of Durban Park coordinated its annual eye-screening activity with the assistance of Ming's Optical.
Hundreds of children were screened from various schools and children were identified and referred for comprehensive eye examinations, free of charge, during the months of November, December and January. Spectacles were provided to those students with vision defects.
During the presentation, Ms. Simone Beckles gave a short address on the long-standing collaboration of over two decades with Ming's Optical and the importance of eye health and eye care beginning from an early age. The students were also instructed on how to care for their glasses by Ming's Optical Lab Technicians, Mr. Wynton Daniels and Mr. Darrel Luke-King. The students and their parents, who were in attendance, were served refreshments after the presentation.