BRIGHT smiles and contentment were seen on the faces of several students who graduated from various courses offered by the Institute of Distance and Continuing Education (IDCE), Anna Regina, on Saturday.
Speaking at the graduation ceremony at Cotton Field Secondary School, IDCE Director, Dr. Jacqueline Murray, disclosed that 19 students will be given a full refund for whichever course they did.
Dr. Murray told the graduates that Deputy Vice-Chancellor for Philanthropy, Alumni and Civic Engagement (PACE) Professor, Paloma Mohammed, facilitated a partnership between the University of Guyana (UG) and ExxonMobil Guyana for the students to be given scholarships.
The scholarship came as a full refund on the tuition fee for the courses the students pursued. Dr. Murray said UG was happy to partner with ExxonMobil to make the refund possible and pointed out that Exxon made the selection with exception of the two top students for the courses.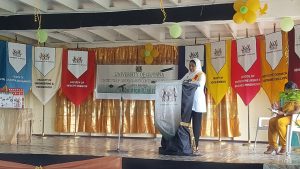 Regional Executive Officer, Denis Jaikarran, said over the year, IDCE has grown, allowing for more young people to qualify themselves.
He urged the graduants of the 32nd Convocation to continue to pursue higher education, strive for excellence and pledged his support for the UG branch at Essequibo as long as he remains REO.
Deputy Headmaster of the Anna Regina Multilateral Secondary School (ARMS), Raghunauth Doodnauth, who delivered the keynote address, said he is a product of IDCE and urged the graduating class to never stop studying.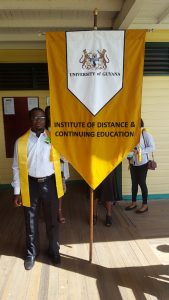 Thirty-eight students graduated from a variety of courses. Among them was Indrawattie Natram, who emerged as a top student in the supervisory management programme.
Raveena Mabadeo emerged at the top of her class in Information Technology; Marcel Fazia Ali in the area of Care for the Elderly; and Rupdarshanie Subryan, in Child Care.
Marcel Fazia Ali was adjudged the best graduating student followed by Indrawattie Natram.