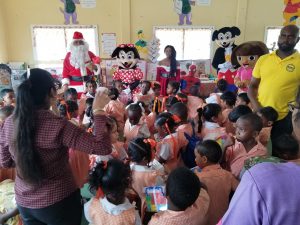 THE Town of Anna Regina came alive Monday evening as many persons converged at the Courts Richmond Branch in Region Two (Pomeroon-Supenaam) to witness their spectacular Christmas Tree light-up. The light-up was held at around 18:30hrs by staff from the Courts Richmond and Main Street branches. The Roadshow marked the second such event to be held by Courts Guyana Inc.
The ceremony beckoned the goodwill of the Christmas season as Courts brought cheer to many children. Children's faces were lit up when they saw Santa Claus and his helpers. It was indeed a scene to behold, as many children were excited to be in the audience.
The helpers were around spreading the joy of the season to the children. The event is an annual one for Courts that fosters togetherness, and brings the joy of Christmas to the people of Essequibo.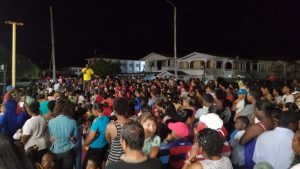 The crowd also joined in singing contemporary renditions of classic Christmas Carols such as "Little Drummer Boy", "Here Comes Santa Claus" and "Do You Hear What I Hear".
Courts Director of Commercial Operations Laverne Baker said the Richmond Roadshow marks the second roadshow that was held by the company to usher in the Christmas season. Baker said that it has been 15 years since Courts Guyana Inc. has been spreading cheer across Guyana, reaching out to children in this way.
Children attending the Richmond Nursery School were the recipients of gifts and goodies. Baker said that throughout the season, thousands of children will receive gifts.
In addition to the roadshow, customers who made a purchase of $49,999 and over were given the opportunity to spin the wheel. The spinning enabled them to win more prizes, as well as even get their purchase free or at a 100% discount. The Director, therefore, thanked customers for choosing Courts Guyana Inc. for Business.
Attending the ceremony also was Regional Executive Officer Denis Jaikarran.