A NIGHT of comedy, karaoke and drama is planned for tomorrow at the Annandale Secondary School, East Coast Demerara for all old students and residents of the close-knit community.
It is being organised by the Annandale Secondary School Old Students' Association, and 'Team Braddar' comprising of local comedians/actors Chris Gopaul and Sean Thompson is on hand, promising an evening of pure fun for those who attend.
President of the newly-resuscitated association Suresh Singh told the Buzz in an interview that he only recently learned that Gopaul is an ex-student. In fact, all old students who have some kind of talent are being invited to perform at the event.
The event will start at 18:00hrs, and with every purchase of a ticket for $600, persons will receive a free hot dog and drink or water.
Singh, who attended the school during the period of 2001 to 2006, explained that the old students' association was formed many years ago, but was dormant for quite some time. This year, though, when he received a promotion and moved from Hope Secondary to Annandale Secondary, he decided to restart it.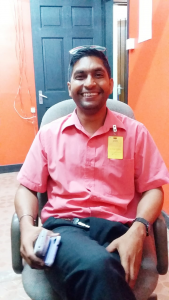 They held an event in May, and it was well supported by the old students. "All of our ventures go toward the school. We only keep, let's say, turn-over money. When the term started in September, we donated over $100,000 worth of items to the school.
"We asked the school to produce a needs assessment list, and from that we extract the things that we can afford and try to satisfy each department. This venture on Saturday is also geared towards that. The industrial department needs some tools, and the administrative office also needs some stuff." He said the aim is to host these events yearly.
"We are asking all old students who have talent and want to perform to come and do so. Even if you're not an old student, you can come perform for us. It's all about clean entertainment. No alcohol is allowed," Singh explained.
He said an alumni wall was recently launched to feature the names of all past students. "You pay us $1,500 and your name goes there, along with when you started attending and when you finished."
According to Singh, the association prints and sells tickets only in the immediate community. So far, it has been receiving lots of support from the community. "We are very transparent about the money we receive and what we buy."
The Mon Repos Neighbourhood Democratic Council (NDC) is supportive of the association, along with several corporate businesses.
The association is aiming to put on a grand reunion once a year.