–The Biggest All-Black Party set for tomorrow
COME tomorrow night, all roads lead to the National Park for what is anticipated to be the biggest all-black party to hit the shores of Guyana: "Black on Black", hosted by 'Seen Up'.
Born Negus McFarlane, 'Seen Up', in a recent interview with 'The Buzz', said that this event came as a result of high demand from his local fans.
Being a popular local DJ, 'Seen Up' said that after realising the large following he has, he decided to capitalise on it and started throwing his own events.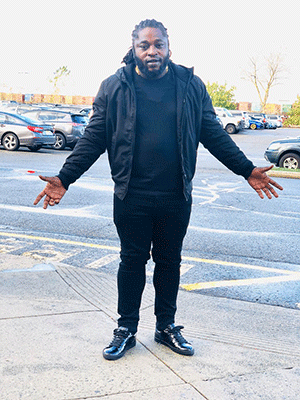 "My following came about naturally. As a youth coming up in the streets, everybody clings to something they wanna do, and music was my thing. I used to play music as a youth coming up, on sound systems and so. Then I started clashing, and I won clashes. Then we started to tour, and the demand grew from the fans abroad," he said.
Because of that, he said, last year he threw his first All-Black Party in New York, and the event was sold out. He returned to the city again this year, and hosted another All- Black event last week, and again, the event was sold out.
'Seen Up' said that he wants to bring this experience to his Guyanese fan base, hence the reason for hosting the event tomorrow. In addition, the celebrity DJ said that he believes he would have outgrown the club setting, since all of his parties were sold out. So his Guyanese supporters will have the privilege of being at a bigger venue that will accommodate everyone.
In fact, he said he wants to set a trend and raise the bar, since all the local DJs would only throw small-club events.
"It's Worldwide Seen Up meh name, so meh affi go big. This gonna prove who is the biggest DJ in this country, and I'm doing it to put Guyana out there with international standard," 'Seen Up' said.
He credits having a large following to the fact that he is a very down-to-earth person.
"I'm genuine and real, and every day I'm in the streets with every level of people. SO the people dem love me," he said.
Even though he is a DJ, 'Seen Up' said it is not a one-man show, but rather it's a whole team effort that will incorporate a lot of other DJs, locally, from America, and from Paris.
This is a big birthday celebration for him, since his birthday was yesterday.
"It's going to be very big. Come early to avoid the rush," 'Seen Up' said.
Tickets cost $2000 general, and $5000 VIP. They can be purchased from That Look Boutique, Grill King, and Fireside Grill.