…as association urges more investments in their development
PRESIDENT of the Guyana Nurses' Association (GNA), Cleopatra Barkoye, on Saturday, challenged the government to invest more in the development of nurses here.
Speaking at GNA's Annual Awards Ceremony, Barkoye said though nurses and midwives are the largest group of healthcare workers in the world, investment in their development is lacking, although essential for the maintenance of a healthy population.
"An investment in Guyana's nursing and midwifery workforce would drive the economy of Guyana not necessarily oil and gas," the GNA President said, while pointing out that the International Council of Nurses (ICN), the International Confederation of Midwives (ICM) and the World Health Organisation (WHO) in May 2008, acknowledged during a meeting in Geneva Switzerland, that nurses and midwives are significantly contributing to the push towards universal health coverage and strong economies.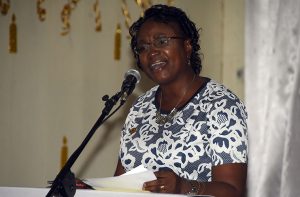 At that meeting, national associations, Barkoye recalled, committed to increase recognition of the roles of nurses and midwives in strengthening primary health, and achieving Universal Health Coverage and the Sustainable Development Goals (SDGs); develop nursing and midwifery leadership through investment; and advocate for an enabling practice environment.
In keeping with the 2018 International Centre on Nurse Migration Policy, the GNA President made a pitch for the nurses and midwives to be better compensated through professional development, manageable working hours, and fair pay.
"Therefore we as an association raise our voice to propel our government to favor methods of retention to keep the best of the best and receive first our own Guyanese nurses," Barkoye said to loud rounds of applause.
Meanwhile, Chairman of the Board of Directors of the Georgetown Public Hospital Corporation (GPHC), Kesaundra Alves, said the Public Health Ministry is cognisant and appreciative of the invaluable contributions nurses and midwives make to the country's healthcare system. Alves urged the nurses and midwives present to continue to serve with distinction.
"The individual performance of each nurse contributes to perception of and regard for the nursing profession. When you perform your duties with excellence, you are making a contribution to the common good; you are encouraging high standards among all of your peers, and setting an example for those who will come after you. And most importantly, when a nurse performs with excellence, he or she is making a real impact on Sustainable Development Goal (SDG) number three – 'good health and well-being,' Alves told the health personnel present.
She posited that while world leaders agreed to the SDGs in 2015, the government, in keeping with its commitment, initiated a number of policies; it is the healthcare workers who would help in the realisation of Goal Three in Guyana, and in other parts of the world. While alluding to Florence Nightingale, Alves urged the healthcare personnel to remain committed to the delivery of high levels of healthcare.
Meanwhile as part of a tradition which started since in the 1980s, GNA gave out more than 20 awards.
The prestigious Gloria Noel Award was presented to Maria Francois. Noel, the first Principal Nursing Officer of Guyana, establish an award for quality nursing care. In the case of Francois, she was awarded for consistently demonstrating care and concern for patients while maintaining professional standards. Added to that, she has displayed technical excellence in nursing care.
Shaundell Saul was presented with the Anges Van-West Charles Award while Deyon Vancooten copped the Rhoda Clarke Award. Clarke, a former Public Health Nurse Tutor and President of the GNA died in October 2017 at 88. Her relatives, in her honour, instituted an award for Quality Nursing Care.
Michelle Pompey copped the Nurse Leader of the Year Award while Hermantram Jagdeo was presented with the Gillian Butts-Garnett Award. Shuanna Hubbard was presented with the Rising Star Award. Fifteen other nurses and midwives were presented with awards, the majority for quality nursing care.
The Gwen Tross Research Foundation Award went to the team with the best research proposal – "Knowledge Attitude and Practices of Accident and Emergency Registered Nurses towards Suicidal Patients at GPHC." That team comprised of Abena Elliss-Boston, Andrea Andrews and Lacrisha Thompson.
The second best research proposal went to Naddine Saunders, Kennesha Harding, Latoya Joseph and Nicketta Drakes. Their proposal titled 'Prevalence of Recurrent Pregnancies among teen mothers in Region Four Georgetown between 2013 and 2017.'
Bursaries were also presented to children of members of the GNA. Some 18 children were awarded for their exceptional performance at this year's National Grade Six Assessment (GNSA) examination and at the Caribbean Secondary Education Certificate (CSEC) examination.
The awards ceremony was held at GNA's Headquarters in Georgetown under the theme "Nurses: A voice to lead – Health for all."