IN Region Seven (Cuyuni-Mazaruni) mining has been a key driver of many land and resource conflicts, a study conducted by the Amerindian Peoples Association (APA) has found.
The study, 'Our Land, Our Life – a Participatory Assessment of the Land and Tenure Situation on Indigenous Peoples in Guyana (Region Seven), was launched on Thursday at the Regency Suites Hotel by the APA. The 245 page Region Seven Land Tenure Report was compiled based on a detail assessment of 20 indigenous communities within the Cuyuni-Mazaruni District.
"Much of the land indigenous communities know to be theirs in Region Seven is not legally recognised or protected by the government, whose land and natural resource agencies have continued to issue third-party rights over indigenous lands without prior consultation and consent of the affected villages and customary landowners. This has meant that most of these untitled, customary lands are covered in mining and logging concessions," the APA said in its report.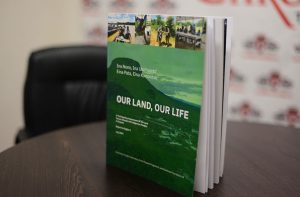 It noted that even land that is legally recognised and protected is not fully controlled by Indigenous Communities, and as such mining concessions can still be granted or renewed on titled lands without the Free, Prior and Informed Consent (FPIC) of the titled village.
"In Region Seven, mining in particular has been a key driver of many land and resource conflicts, as the Mazaruni region has been opened as a mining district since early in the previous century," the Amerindian Association further noted.
According to the government GIM database, at least six villages, in the district, have mining or logging concessions on their titled lands, however, the APA said based on the study, the GIM database is not accurate. It explained that two villages with title, Kako and Kambaru/Omanaika, do not appear on the government GIM website.
"Jawalla's title appears in a different location on the GIM website from its title description. Paruima and Kamarang's titles also appear to be different on the GIM website as compared to their title description. Due to an error in the plan and incorrect river names, Kaikan's title appears smaller than its description in two areas," the APA pointed out in its report.
It noted too, that based on the government GIM maps, all of the titled villages are bordered by mining or logging concessions or both – an issue which remains a concern for most of the villages. The APA said almost all of the villages are concerned about land and resource conflicts with the extractive industries.
"There are also instances of miners destroying village lines (traditional trails used to access farming, hunting, fishing, or gathering grounds) to create roads to access their concessions which are outside of the village's title.," the Amerindian Association reported.
The study shows too that commercial mining and logging are damaging the environment and affecting the livelihood of Indigenous people.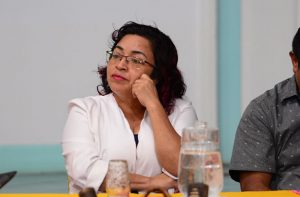 "Many of the communities are concerned that extractive activities, particularly mining, are destroying their environment and could cause food and water insecurity. Several communities have reported concerns about mercury pollution in the Mazaruni River and its tributaries. There are also reports of fish in the rivers being unhealthy, with reports of decreased numbers of, decreased sizes of, and sometimes odd shapes of fish. In some cases, there are also instances of miners deliberately destroying farms and working out areas that are clearly the village's farming grounds," APA explained.
Added to that, the study found that miners and even officers from the Guyana Geology and Mines Commission (GGMC), the Guyana Police Force and Guyana Defence Force have reportedly threatened and assaulted villagers of indigenous customary lands including titled lands.
"There are complains of miners bulldozing residents' farms, and destroying villages' traditional trail lines…Kaikan has complained that the police and soldiers stationed in their village have sexually assaulted women and stolen from the village," the APA contended.
The study also focused on legal recognition of tenure rights; title demarcation and extensions; laws and policies; lack of consultation and free, prior and informed consent and issues based on mapping and surveys.
APA Governance and Rights Coordinator, Dr. Laura George, said out of the 20 villages that were assessed, 15 of them are titled but only six of those have been demarcated.
Dr. George said the violation of indigenous land rights, in Region Seven, is as a result of flaws in the country's laws particularly the Amerindian Act of 2006. Vice-President and Minister of Indigenous Peoples' Affairs, Sydney Allicock, was among the officials who witnessed the launch of the report.