…as Linden Exhibition and Trade Fair officially opens
FIVE Lindeners are now financially empowered to expand their small businesses with grants from the Small Business Bureau (SBB). Presentation of these grants took the spotlight at the official opening ceremony of the Linden Exposition and Trade Fair 2019 at the Egbert Benjamin Conference Centre on Friday afternoon. Presenting the grants was Minister of Business, Haimraj Rajkumar, who expressed how pleased he was that Linden was the first town to receive grants since he took office at the Ministry of Business.
Rajkumar urged the beneficiaries to use the money for the purpose intended, that is, to expand their small businesses. "The grant is for a specific purpose, what you would have put in your business plan; this is not free money, this is money from the taxpayers, this is money that we have to account for," Rajkumar said, adding that the SBB will keenly monitor the businesses that benefited.
He encouraged the recipients to keep pushing to reach the pinnacle of success in their various businesses so that they can emerge into large companies.
"I believe in the saying that small businesses can grow into large companies, so it is my feeling that if we encourage you, with the proper training and guidance, with due diligence and hard work, you too can become a business that we can be proud of…it takes hard work and dedication," the Minister said.
In 2018, the APNU- AFC Government disbursed $100M in loans and grants through SBB and a similar amount was allocated for 2019. Chief Executive Officer of SBB, Dr. Lowell Porter, said many businesses in Linden were developed from either loans or grants, from SBB. While giving anecdotes of persons who were persistent and got through with financing and today are enjoying flourishing businesses around Guyana, he encouraged Lindeners to utilise the SBB help desk at the Linden Mayor and Town Council to commence the process of applying.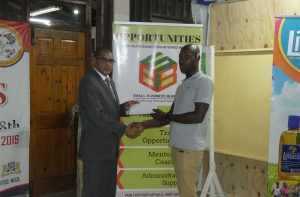 The businesses that received grants include an ice cream parlour, an electronic store, a snackette and a furniture workshop. Recipient Jellon Farral will be using his grant to expand his electronic shop. He repairs electronic devices and sells accessories for these devices. "I am very happy that I received the grant and it will help me to develop it better," he said.
Farral hopes that one day his business will be at the same level as those that were exhibiting their products and services at the exhibition. Region Two (Pomeroon-Supenaam) will be the next region to benefit from grant distribution.
Scores of businesses and large companies from Linden and across the country opened booths at the exhibition, which will run for three days.
In his remarks, President of the Linden Chamber of Industry, Commerce and Development (LCICD), Victor Fernandes, stressed that the aim of the exhibition is to showcase what Lindeners are capable of, in relation to adding value to products through agro-processing and manufacturing. Many of these businesses are not even known to fellow Lindeners, more so, Guyanese, he posited. "How many of us are aware of pleasurable flavours that is right here is Linden, producing some of the best relishes and seasoning, how many of us know about Chanzar with a wide array of spices made right here in Linden and then you have De Souza producing over 30 different soap, producing right here," he asked. Local businesses can also use the exposition to network with other established competition so as to receive the needed tips on how to up their standards in terms of quality and packaging of the products. Improvement in this regard is needed for Linden businesses to really flap their wings; more so as the country prepares for the oil and gas industry, he said. "Many of us, if we do not rise to the occasion with new innovations and technologies that come with oil and gas, we would be lost, overwhelmed by it. Many instances we admit the economic benefits that come with that type of industry. Businesses must learn and learn quickly to be innovative and be up for the challenge of economic transformation that is to come," Fernandes said.
The Minister of Business also touched on this industry and articulated that deliberate actions need to be taken, and entrepreneurs need to actively change their thinking to benefit from the spin-offs of the oil industry. His government, he said, will continue to support the diversification of Linden's economy as the glory days of bauxite are long gone.
Linden Enterprise Network, Business Development Officer, Dominic Henry urged businesses to take advantage of the monies at LEN since the funds are ripe and ready to be borrowed.
The Linden Exposition and Trade Fair was organised by Linden Chamber, and will bring the curtain down for Linden Business Week 2019 which was held under the theme 'New Horizons, New Opportunities in 2019.'