IN keeping with its mandate of 'fostering harmonious relationships and building a unified country,' the Department of Social Cohesion, Culture, Youth and Sport, Ministry of the Presidency, on Thursday, facilitated an outreach in the community of Batavia, Region Seven.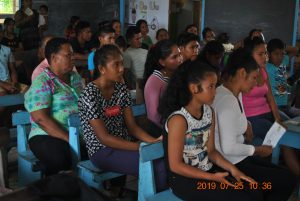 During the outreach, the Indigenous community was presented with an outboard motor, which will facilitate in the transport of school children from Batavia to Bartica, by Minister of Social Cohesion, Culture, Youth and Sport, Dr. George Norton.
The initiative was the fulfillment of a commitment made by Dr. Norton, after hearing about the transportation woes of the community.
"It was explained to us that your nursery school children had to wait after school until the secondary school students come from Bartica, so that the boat could take the nursery school children back home at the same time. That was heart wrenching," he recalled.
Dr. Norton noted that the outboard motor is not a powerful one, however, it is one that would safely take the children of Batavia to and from school.
"The motor would get the children home much earlier and they won't have to wait that lengthy time," he pointed out.
According to Deputy Regional Executive Officer, Region Seven, Holbert Knight, 200 children of the riverine areas are transported to Bartica just for secondary school on a daily basis, with $10 million dollars being spent on fuel per year.
In addition to the handing over ceremony which took place at the Batavia Primary School, a presentation by Technical Officer attached to the Department of Social Cohesion, Pamela Nauth, was featured.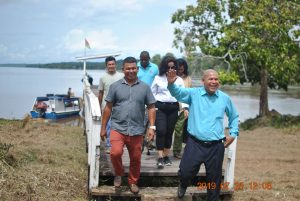 During her presentation, Nauth stated that social cohesion is a progressive process of enhancing social interaction, integration and harmony within and across social groups in Guyana by forging and reinforcing stronger values in order to enhance and sustain socio-economic, cultural and spiritual well-being and enriched livelihoods.
She added that the differences to be considered to achieve cohesion and harmony include religion, ethnicity, cultural practices, race, age, gender, political affiliation, languages and ableness.
The presentation was aimed at educating the residents of Batavia on social cohesion and how to build a socially cohesive society.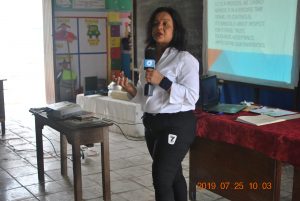 Deputy, Toshao of the Batavia community, Orin Williams, expressed his gratitude to the minister for fulfilling his promises and making such a great gesture. Williams also requested that the Department of Social Cohesion facilitate more outreaches within the community.
The Department of Social Cohesion was established after the 2015 General and Regional Elections in keeping with President David Granger's vision of the need for citizens of Guyana to work together to build a strong and unified country. The Department of Social Cohesion was established to promote this vision.
The department's core values are inclusivity, integrity, reliability, responsiveness, service, trust, transparency and accountability. Fostering cohesion and harmony would promote equal access to education, increase employment opportunities, enhance social protection, reduce poverty, reduce inequality, and promote political inclusion.