…Guyana launches policies on child labour, Occupational Safety and Health
THE Ministry of Social Protection on Friday, in collaboration with international partners, officially launched Guyana's National Policy on Child Labour and National Policy on Occupational Safety and Health (OSH).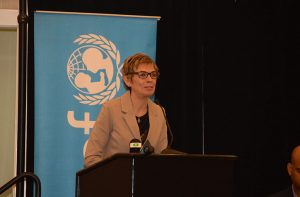 The two policies were launched at the Marriott Hotel and will push Guyana forward towards the elimination of child labour and will promote and improve the quality of life and safety of workers.
The event was attended by Minster of Social Protection Amna Ally; representatives of International Labour Organization (ILO); United Nations Children's Fund (UNICEF) and trade unions; key stakeholders of the Ministry and school children.
The ILO defines child labour as work that deprives children of their childhood, their potential, their dignity and is harmful to their physical and mental development. Work that does not interfere with the child's health, personal development or schooling is not considered to be child labour.
According to a UNICEF 2016 report, the total child labour prevalence in Guyana for children 5 to 7 years is 18.3 per cent.
Guyana has pledged to work to end child labour in the country by 2025 in keeping with target 8.7 of the United Nations (UN) Sustainable Development Goals (SDGs).
Addressing those attending, Minster Ally said that the Ministry is proud to launch two critical, comprehensive and modern policies which will ensure the safety and protection of Guyana's valuable resources: its citizens.
On the topic of child labour, she said that whether the act is trafficking for sexual exploitation or forced labour in dangerous, abusive circumstances, the outcomes are similarly negative.
"These children are robbed of their childhood, robbed of their education, robbed of their future and as a consequence the cycle of poverty is perpetuated," Ally said.
"A nation can neither achieve nor sustain prosperity on the backs of its children. The exploitation of children must not be tolerated under any circumstances or for any reason. When children are exploited for the economic gains of others, everybody loses."
To develop the National Policy on Child Labour, the Ministry's Labour Department, in collaboration with UNICEF, held five consultations with key stakeholders in Georgetown, Linden, Berbice, Bartica and Mahdia.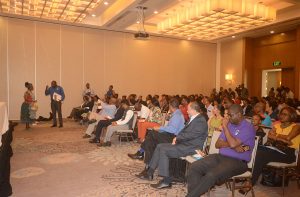 Subsequently, some 400 persons attended a validation workshop, in Georgetown, on the draft policy and the final policy document was prepared and submitted.
The policy will reconcile gaps and inconsistencies between national policies and ratified international conventions; establish a national framework to combat child labour and will seek to remove, with urgency, children involved in the worst forms of child labour.
It will also build civic engagement and provide special emphasis on the protection of vulnerable indigenous children in Guyana's hinterland.
The policy is guided by a list of targets to be achieved by 2020 such as the establishment of a Child Labour Prevention and Elimination Committee and targets for 2025 such as the development of child-sensitive investigation and prosecution procedures for child victims of human trafficking.
Throughout the years, national legislation impacting the prevention and elimination of child labour will be amended. Minister Ally said that the Government is certain that, with the achievement of this milestone, the country will gain the necessary momentum for the elimination of child labour.
UNICEF Guyana and Suriname Representative, Sylvie Fouet, congratulated the minister and her team for advancing efforts to combat child labour. Fouet urged that, with the increase of revenues expected in 2020, government should invest heavily in the cause even as UNICEF is pleased to support key future interventions.
OSH ON FRONT BURNER
Regarding the National Policy on OSH, the first such policy was crafted in 1993, revised in 1996 and, since then, no changes were made until 2016 under the current administration.
Guyana is now the only Caribbean country with a National OSH Policy while some others are in the drafting phase. In 2016, collaboration with the National Advisory Council on Occupational Safety and Health (NACOSH) and the ILO, the new policy was crafted and widely circulated to social partners and key stakeholders.
Consultation workshops were held and the new policy was subsequently validated at a workshop in September 2017 and finalised in March 2018. The policy aims to develop and reinforce specialisations and standards in OHS in keeping with international standards and also aims to enforce compliance with OSH legislation and regulation.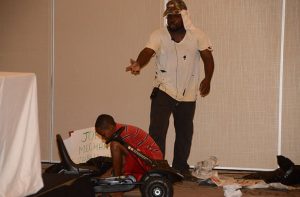 Its scope will cover all workplaces in all sectors with emphasis to be placed on women; young persons; elderly persons; persons with disabilities; addicts; mentally ill persons and persons living with HIV.
"This policy will enable us to become more pro-active in implementing safety and health measures at workplaces which will create conducive working environments that are favourable towards productivity and economic growth," Ally said.
She added: "This government has pledged to put our people first and I believe that these policies will provide directives that will further protect and promote the development of our people."
At the function, remarks came from ILO Representative Claudia Coenjaerts who commended all parties involved in both policies and noted that she is happy to observe that the importance of OSH is being strongly promoted by the private sector.
Her remarks came following the comments of Consultative Association of Guyanese Industry Limited (CAGI) Representative, Earl Morris, who urged businesses not to see safety and health measures as expensive or a burden. He noted that OSH can improve a company's image; improve its position in the world market and create job satisfaction among workers for better performance.
Meanwhile, in his brief comments to the attendees, Guyana Trades Union Congress (GTUC) General Secretary, Lincoln Lewis, commended the government for how it handled the recent RUSAL labour matter. He stressed the importance of such policies as they ensure the protection of the rights of Guyanese from child to adult.
General Secretary of the Federation of Independent Trade Unions of Guyana (FITUG), Dawan Nagasar, commended the ministry for the improvements in the two areas over the years. Trade Unions in Guyana will assist in the monitoring and enforcement of labour legislation and the integration of child labour issues within Union policies.