THE Guyana Marketing Corporation (GMC) and the Guyana Livestock Development Authority (GLDA) have both received a much needed boost to their cold chain system in the form of two brand new refrigeration trucks donated the Ministry of Agriculture.
The trucks, valued at a total cost of $36M, were handed over to representatives of the respective agencies during a ceremony in the ministry's compound where Minister of Agriculture, Noel Holder presented the keys to Chief Executive Officer (ag) of the GLDA Michael Welch and General Manager of the GMC Ida Sealy-Adams.
In brief remarks, during an exclusive interview with the Department of Public Information (DPI), Welch explained that the truck would be extremely beneficial to the abattoir's operations. "We are here to receive this refrigerated truck which is going to be part of maintaining the cold chain from the abattoir to the consumer because we are putting a very high premium on food safety and we want to ensure that [a] quality commodity reaches the consumer in a timely manner."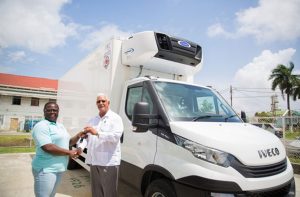 Sealy-Adams remarked that while the trucks would also benefit them in the cold chain process, it would be more beneficial early on, in the farm to processing aspect. "One of the services we offer is ensuring produce are transported from the farm to the market and from the farm to the packaging facilities with the most appropriate transport means, so this will surely assist us in enabling that the produce we transport from the farm, are transported in a manner in which you would want it transported that is in refrigerated conditions."
By transporting produce in refrigerated conditions, farmers are able to reduce physiological damage to their produce which means less produce will have physical damage and thus less produce would be refused at the end of the chain. The truck will also aid in the transportation of goods from the packaging facility to the export point for fresh produce and value-added products that are to be exported.
The cold chain, as it is commonly referred, has to do with the movement of produce from the point of production (Farm) to its final destination, be it the market, consumer, or for export. In order to minimise physiological damage and slow the ripening process, the practice of temperature control is employed.
Temperature control deals with ensuring that every produce is stored at the temperature just right for that specific type of produce to not induce freezing damage but also low enough to severely slow the chemical processes undergone post-harvest.