– says AFC's Charrandas Persaud in his defence
IN what can only be described as a defining moment in the history of Guyana, Alliance for Change (AFC) back-bencher Charrandas Persaud voted in favour of an Opposition-sponsored No-Confidence Motion against his government when the matter was put to a vote in the National Assembly on Friday night.
Persaud's dissenting voice in the House left the A Partnership for National Unity + Alliance for Change (APNU+AFC) Members of Parliament (MPs) dumbfounded. Though repeatedly urged by his colleagues to change his vote, he remained resolute in his position.
The attorney is now being dubbed a traitor, but according to him, he was guided by his conscience and not because he was coerced by the Parliamentary Opposition, the People's Progressive Party/Civic (PPP/C).
Minutes after voting "yes" to unseat the David Granger Administration, Persaud, on the corridors of the Public Buildings, told reporters that he was grossly disappointed in the AFC, the party to which he belongs.
"We are sitting in Parliament like 'yes-men' to APNU, and we are AFC," he said. "And we have not blended with APNU. The other parties have; we have not. The government is APNU+AFC; we have not blended. So why are we doing everything they want to do, like passing Prime Minister Hamilton Green's Pension Bill?" Persaud told reporters.
Back in March 2017, the APNU+AFC Government had used their one-seat majority in the House to pass Prime Minister Hamilton Green Pension Bill, a move that sees him now receiving a monthly sum of $1.3M. But Persaud said he had openly objected to the passage of the Bill, only to have the AFC throw its support behind APNU.
"We are not opposing anything," he said. "We are not saying 'no' to anything, and that is what my problem is. I can't stand that. As Jessica Levy, in the House of Commons in Great Britain, said, there are times when you have to vote according to your conscience and not because of party affiliation. This is a Government MPs maintain all is not lost conscience vote," he said.
A CONSCIENCE VOTE
Amid speculation that he was coerced or even paid by the PPP/C to vote against his government, Persaud maintained that it was a conscience vote.
"I am not a PPP member; I am not affiliated to the PPP," he said. "This is not because of the PPP; this is because my conscience is now clear. My life may go but you know what I will die a happy person with a clear God damn conscience."
According him, moments after voting "yes" in favour of the no-confidence motion against the APNU+AFC government, he received several threats on his life.
"Volda Lawrence was sitting in the cafeteria and said whoever crosses the floor, she will kill the person; throw them over the rail," he alleged. However, his colleagues on the governing side of the House have all denied ever hearing such statement uttered by Public Health Minister, Volda Lawrence.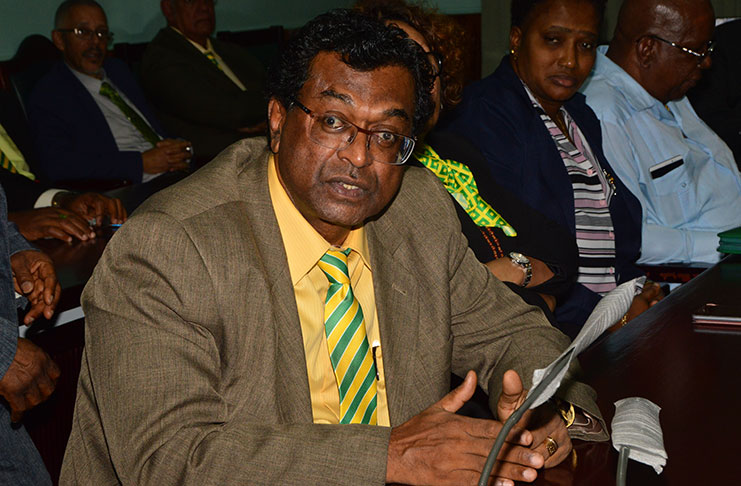 But Persaud clearly is not a fan of Lawrence. According to him, he had urged Leader of the AFC, Raphael Trotman to call out Lawrence over her statements on employing supporters of the People's National Congress/Reform (PNC/R), a major bloc of the APNU. "But what did Trotman do? He, as Leader of the AFC, defended Volda Lawrence!"
The MP, who would soon be handing in his resignation, also criticised the government over its decision to downsize the operations of the Guyana Sugar Corporation (GuySuCo) and by extension the sugar industry.
"You destroyed the lives of sugar workers in a village and a district that I live in, and I can't live with that," Persaud said. "So if I die now, people may not be happy with what I have done, but I will die a happy person and have a clear conscience."
Persaud said that on Thursday he wrote a letter to his son, encouraging him to be a good father, and that he will be visiting his grandchildren, hopefully soon. However, in the event that something happens to him, Persaud said he has written a letter detailing the reason for his action for which he has asked his secretary to make public.
HEAVY SECURITY
Amid heavy security, the MP exited through a back gate of the Public Buildings, and was whisked away in a white vehicle. Many PPP/C MPs exited the building through the said back gate as well. The gates at the front of the Public Buildings were closed, and manned by members of the Guyana Police Force, as APNU+AFC supporters lined the road awaiting answers.
Voting on the no-confidence motion took place after more than six hours of debates, with the heavyweights, five from each side of the House, speaking to it. The opposition members had also voted "Yes", and when Persaud's name was called by Clerk of the National Assembly, Sherlock Isaacs, he, too, said "yes", putting a temporary halt on the voting process.
His name was called for a second time, and again, Persaud said "yes", even as his colleague, Jermaine Figueira and several others were heard encouraging him to change his vote.
At that point, Speaker of the House, Dr. Barton Scotland, intervened, asking that the votes for the government benches be taken again from the top. And when it came down to Persaud, for a third time, he said "yes".
When the numbers were tallied, 33 persons had voted in favour of the No-Confidence Motion, and 32 against.
EMERGENCY MEETING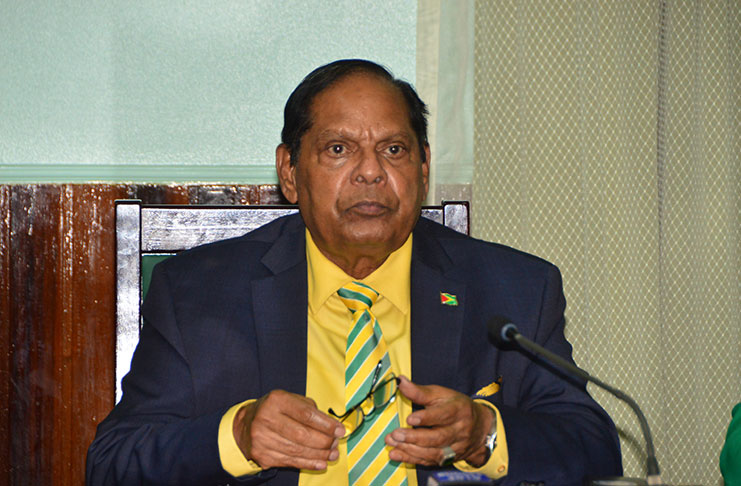 Prime Minister Moses Nagamootoo led all the Government MPs, with the exception of MP Persaud, into an emergency meeting following the conclusion of Friday's sitting.
At a press conference thereafter, in Committee Room #2 of the Public Buildings, Minister Nagamootoo acknowledged that the Opposition, with the help of Persaud, has unseated the government. Noting that it was an open and transparent debate, he said that despite the outcome, it must be recorded that Parliamentary democracy had striven.
However, he said, "Government will meet to decide on the status of that member (Persaud) who has been informed that this was not an occasion on which a conscience vote would be taken, and had undertaken to fully support and be in solidarity with his side."
The PM told reporters that Persaud had exhibited no sign of disgruntlement, and had undertaken to vote against the motion when a meeting was held earlier on Friday.
Government's Chief Whip Amna Ally echoed similar sentiments. "At the meeting here this afternoon, we asked whether there were anybody with dissenting views and he did not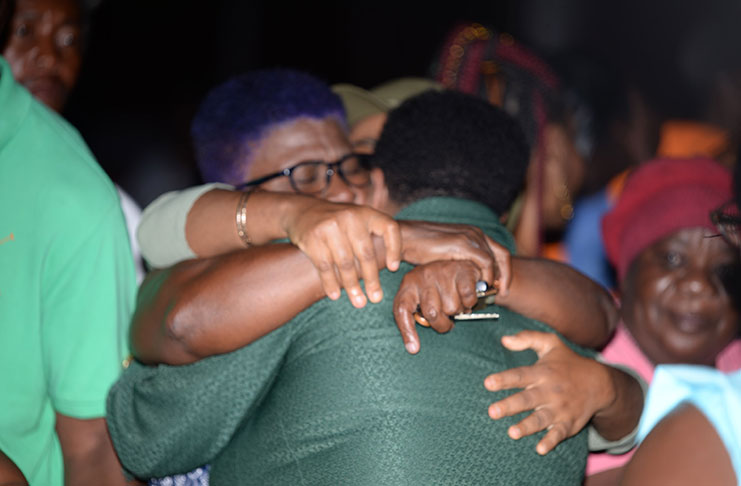 indicate," she explained.
A BETRAYAL
According to her, this is a clear case of betrayal.
"I think that we were totally betrayed by Mr. Charrandas' actions tonight; we had no indication that that as the way he was going to go," she added.
Nonetheless, the Prime Minister explained that according to Article 106 of the Constitution, upon the passage of a no-confidence motion, the Government is mandated to resign, and hold elections within three months.
He made it clear that the Government shall remain in office until elections are called. "This is a matter that will engage the attention of the Government and our legal advisers as to what are the options available, and what is the timeline for those options. But as I said, the Constitution says elections within 90 days," Prime Minister Nagamootoo said.
The Government is calling on all Guyanese to respect to outcome of the motion, and to conduct their business as usual. The no-confidence motion was filed by Opposition Leader Bharrat Jagdeo in November.