…Meet was a huge success, says Kennard
HORSE racing is not a sport which immediately springs to mind when you think of mass appeal, but it continues to attract huge crowds and provide that excitement for the many spectators whenever there is an event.
Dubbed the Sport of Kings, Sunday's Emancipation horse race meet held at the Kennard Memorial Turf Club, was not only for the race fans, but it was a day of family entertainment. While some fans enjoyed the spectacle from the stands, thousands had preferred the informal picnic atmosphere.
Racing fans were rarely short of entertainment, and the large crowd was treated to top quality racing during the seven-event race card, especially in the feature event– the E1 and Lower– which was the final race of the day.
Four horses sent the fans into a frenzy after an even break, which saw T&T of the Nand Persaud Racing Stables winning a comfortable race.
The thoroughbred, which was ridden by jockey Yap Drepaul, took control of the race on the homestretch and ran away from the others for the $600,000 first prize.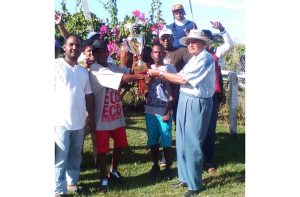 Golden Blue Echo sped off with the $300,000 second prize while 'Isn't She Charming' had to settle for the $150,000 third place prize.
Race one saw horses competing in the L Class and Lower non-winners and three-year-old maiden earners. Secret Flyer of the C. Jorree Stables won ahead of Strike Again and See the Moon.
The second race of the day — L non-winner race, had Byron of the C. Collins Stables taking top honors from The Rock and Red Weasel.
Race three; H2 and Lower, was another competitive one with Lucky Star from the R. Pooran Stables, winning from Seven Dust and Isn's She Charming.
In race four, the two-year-old Guyana bred, Victoria, crossed the finish line ahead of Princess Tasha and Perfection, while Guvna Ground Gal won ahead of Barbarosa and Masapeque Dr. in the L Class Open race.
The penultimate race– the three-year-old Guyana bred and J2 and Lower– was won by Slim Shady, while Not this Time and King Stanley rounded off the prize monies.
Meanwhile, Justice Cecil Kennard expressed that the day's event was a huge success. Kennard, who is also the President of the turf club, pointed out that horse race has grown into a family tradition over the years because of the atmosphere it brings. He thanked all involved and fans for an excellent day of racing.
Horse racing fans will now turn their attention to the 12th annual Guyana Cup Horse Race Meet.
The one-day event is billed for August 19 at the Rising Sun Turf Club, West Coast Berbice.