–first shipment of equipment for operation in 2020 here
CONSTRUCTION of the ExxonMobil warehouse and onshore logistics base is expected to be completed before the scheduled time, said Chief Executive Officer (CEO) of TotalTec Oilfield Services, Lars Mangal after a tour of the facility on Thursday.
ExxonMobil – the company currently drilling for oil in Guyana along with joint venture partners HESS and CNOOC Nexen – had awarded the contract to Guyana Shore Base Inc. (GYSBI) which is a Guyanese joint venture made up of Muneshwers Ltd., Pacific Rim Constructors, TotalTec Oilfield Services and LED Offshore.
The area being developed by GYSBI is 28 acres, with a waterfront of 900ft by 1600ft. The company is aiming to build a wharf of 600ft.
"We are ahead of schedule, below budget and on track to exceed Exxon's expectation and partners with Exxon," said Mangal. He gave the completion date as March 2018.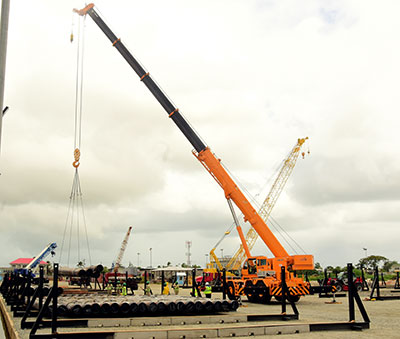 General Manager of GYBSI, Glenn Lockwood, who was also a part of the tour, said the facility was constructed in "record time" and they are only finishing off a pipe wash and the 2000 square meters warehouse.
The infrastructure of the base also includes a large yard with pipe racks and staging places which they intend to use to put tubular (pipes) prior to sending them to the Floating Production, Storage and Offloading vessel (FPSO).
ExxonMobil had initially planned to use a shore base in Trinidad and Tobago before turning its full attention to Guyana. The base will service the needs of the FPSO which will be offshore Guyana producing oil. Fuel, water, cement, mud, and other materials will be available at the base.
Lockwood explained that the facility is practically operational already because the first shipment of equipment for operation in 2020 arrived Wednesday night. He said popular shipping company Inter Marine delivered developing casing and other tubular fittings on its ship the "Industry Aim" which is docked here.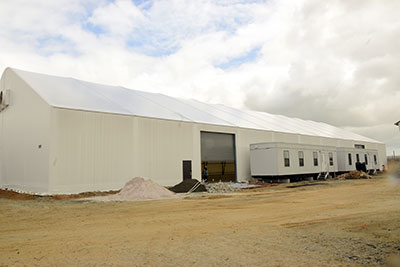 The shipment is the first of many and according to the General Manager the next shipment is expected in Guyana by this weekend. "Right now we are getting ready to take the pipe off the ship, wash it so that it will be ready to go offshore," said Lockwood, adding that they are off and running.
So far 60 persons, 94 per cent of whom are Guyanese, have been employed by GYSBI and when the facility is fully completed they expect to have a staff complement of close to 300 persons.
Minister of Natural Resources, Raphael Trotman said much more is in the pipeline for Guyanese and the shipment of equipment is a symbol of that.
"This is not a joke, not an illusion, it has started to happen… this is something to celebrate," said the Minister, who further noted that persons need to be educated about the industry and the Government's effort to get the first oil by 2020.
ExxonMobil and its joint venture partners HESS and CNOOC Nexen had discovered recoverable resources, including current proved reserves and additional resources, estimated to be 3.2 billion gross oil-equivalent barrels prior to the 2018 Ranger discovery. Production from Liza Phase 1 is expected to begin by 2020, less than five years after discovery.