DEEP anguish pervaded the Guyana Teacher's Union (GTU) Headquarters on Saturday as mourners and sympathisers wept uncontrollably at a Thanksgiving Service for the life of fallen Richard Ishmael Secondary School teacher, Kescia Branche.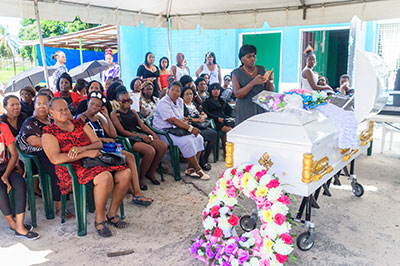 Branche died on November 7, following a period of hospitalisation after being found in an unconscious state, battered and abandoned on the roadway at Princes Street and Louisa Row, Georgetown, a few weeks ago.
The 22-year-old mother of one, despite doctors' best efforts, remained in an unconscious state in the Intensive Care Unit of the Georgetown Public Hospital until the time of her demise on November 7, at 17:00 hrs. She died with her twin-sister, Cassandra, at her bedside.
Meanwhile, it was consensual that whatever the circumstances leading up to her unfortunate encounter on the night she was assaulted, she had no right to have been treated in that manner, and moreso, to die the way she did.
"She was a mother, a daughter, a school teacher who gave of herself for her students and was known to have been a young woman of dignity. We pray God brings the culprits to justice," according to comments offered by concerned citizens.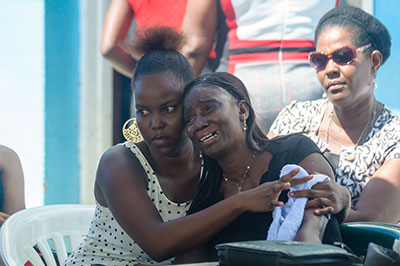 Officiating minister was pastor Hanibol, who admonished the mourners and sympathisers: "Give your lives to God; Get your lives covered under the Blood of Jesus, for anytime He could show up at your door."
The sermon was delivered by Pastor Sonaide Richmond, who admonished the gathering to live their lives in such a way that they will have no regrets.
There were many glowing tributes rendered in Branche's favour by persons including the Headteacher of Richard Ishmael Secondary School; a past President of the School's Parent-Teacher Association; Sherry Anne Balkarran, Miss Guyana Heritage Queen 2017; and GTU representatives.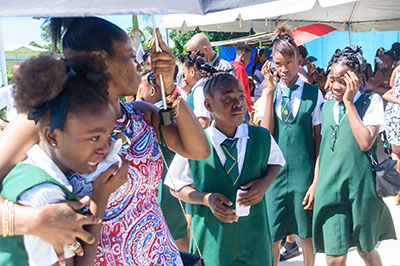 There were also tributes in song as well as a rendition by the Richard Ishmael School Choir and a strange tribute from one who never knew her, but had all the good things to say about her, against the backdrop of negative comments from some persons who also did not know her, but went on a negative speculation rampage.
The eulogy was delivered by Kereece Branche, sister of the deceased.
The young teacher was remembered as a youthful individual of courage, charm, charisma and loyalty.
"She was one who was the mainstay of her family, friends, students and colleagues in times of joy and sadness," one GTU mourner said, adding: "The teaching fraternity mourns the loss of a resolute individual in education. We salute her sterling contributions made in delivery of the curriculum to the many students she possibly impacted and the many students whose lives she'd touched."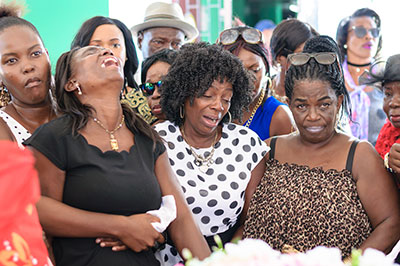 Another said, "She served with distinction. During her professional years, she was a candid staff member who always strove for excellence and was always eager to complete whatever tasks devolved on her in a very diligent manner. Let us therefore celebrate our dear sister's legacy left on earth. Condolences to the immediate family, friends and staff of the late Kescia from the Central Executive and Members of the Guyana Teachers Union and teachers at large. May her soul rest in peace."
Meanwhile, tearfully delivering the eulogy, Kereece who lives abroad, relived the wonderful experience she shared with her sister when they last met five years ago.
"Even though we mourn, we must be thankful to God that we were able to spend quality time with her," Kereece said.
She reflected on Kescia's wonderful traits as a lady; her admirable bonding with her three-year-old son, and the joy she was in the home.
Touching on her attributes and pondering just why death had to engulf her sister so soon, Kereece went on: "She couldn't live, she was too beautiful, so pure. There was no woman as beautiful as Kescia,"