Local sitcom seeks to revive interest in traditional TV
WITH the rise of new media, gone are the traditional days when the family would sit at home and watch their favourite television shows after the news. Familiar names like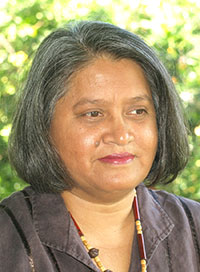 "Family Matters", "The Cosby Show" and other popular situation comedies (sitcoms,) have all seemed to lose the traditional family audience with the rise in popularity of new shows via streaming services and the cable industry. But even as traditional shows engage in constant competition with modern television, the newly launched local sitcom, "Days like Dese" is hoping to bring back the enthusiasm for such shows in Guyana.
For most sitcoms the main objective is to connect with the target audience, either through its characters, or through stories of real life experiences that viewers can relate to. This is the hope of "Days like Dese" which is written and directed by local writer, Randolph Critchlow. It recently aired its first two episodes and has since received positive feedback from the general public via social media.
The half-hour show is presented by GEMS Theatre Productions in collaboration with the Institute of Private Enterprise Development (IPED). The show was officially launched on May 25, though its first episode was aired in June.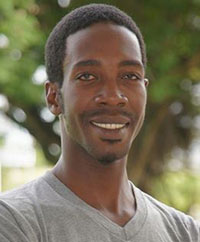 In an interview with Randolph Critchlow and Gem Mahdoo Nascimento, the pair related that the sitcom was not only created for entertainment purposes, but to share strong and serious messages to the Guyanese public. However, they noted that political and religious messages will not be a part of the show as they plan to keep a neutral relationship with their audience.
According to Randolph, the 30-minute sitcom delves deep into the daily lives of a diverse 'socially responsible' middle-class Guyanese family known as the Rupauls. The sitcom inspects and highlights the intricacies of family and community interactions, through a blurred racial and social lens. The sitcom, through its intentionally diverse and mixed casting, intends to remind the public of how connected they really are as Guyanese. The show also shows patriotism and support of everything Guyanese (food, vacation and craft), as will be seen in the episodes.
The Rupaul family exists not only in a racial blender, but a social and generational one; as we get to see how the youth and the older folk try and sometimes struggle to bridge the generational and social gaps. It is Randolph's hope that viewers will feel connected with this family as they journey with them, traversing terrains that may sometimes be considered controversial, but always palatable.
The Writer
Script Writer and teacher, Randolph Critchlow has on his shoulders 10 years' experience in the creative industry. His experience ranges in the field of writing, directing, acting and producing. Critchlow explained this is not his first attempt at creating a long standing television show as he would have done a show in collaboration with E-Networks called
"Bare Rickaticks".
The group of actors of that show was well known as the 'Reactors'; they produced a solid number of comedic clips which was aired both on the traditional and social media. After the second season of filming the show ended. The academic, who is an International Relations graduate and certified teacher, expressed his passion for the creative industry in Guyana. He explained, in his early days he always dreamt of creating and writing a sitcom of the same nature, since his inspiration came from sitcoms he watched as a teen, his favorites being "Three's Company" and "Friends".
"Even before writing with the Reactors, growing up in theatre and looking at the television at sitcoms like 'Full House', 'Family Matters' and 'Fresh Prince,' those were things I grew up on, so creating the sitcom was always something I wanted to do," said Critchlow
Critchlow stated that his fears for this sitcom lies in loss of sponsorship and the lack of proper copyright laws to protect his work.
The Cast
The actors of the sitcom are no strangers to the creative industry in Guyana. They are Nurriyyih Gerrard, Mark Luke-Edwards, Ron Robinson, Lavonne George, Simone Dowding, Kirk Jardine, Shevon Henry, Rajan Tiwari, Simone Persaud, Makayah Smith, Safira Abrahim-Williams, Kailey Liverpool, Brian Goodman and Olivia Rodrigues to name a few. As other episodes will be filmed new guest actors will appear. When asked if there will be a casting call for inexperienced actors for upcoming seasons, the directors responded in the positive. They revealed that TV personality Joel Gansham will be making an appearance on the sitcom as a guest star among other prominent persons.
Executive Producer, Gem Mahdoo-Nascimento, who initially approached Critchlow with the idea for a sitcom explained that the sitcom took a while to get started due to sponsorship. She noted that because of the collaboration with IPED, the sitcom was able to get past the initial stage of launching. "We were supposed to start in December, but I didn't get enough sponsors, so finally this year we managed to get a number of companies on board," she said. She added that while she is grateful for the sponsors she has, however, she is hoping to get more support from the Ministries in Guyana, with the exception of Ministry of Social Cohesion, since it would have already assisted in sponsorship for one of the aired episodes.
The Executive Producer said, "While we have comedy, we have serious messages. We are approaching ministries who have various messages to send out to educate Guyanese to come on board so we can subtly put their messages in the scripts," she said.
She added that the support from the private sector has been overwhelming. Some of the other sponsors include GTT, Sankar's Auto World, Ansa McCal, among others.
The sitcom will be aired on NTN 69 and on NCN11 on a monthly basis, since there will be 12 episodes per season.